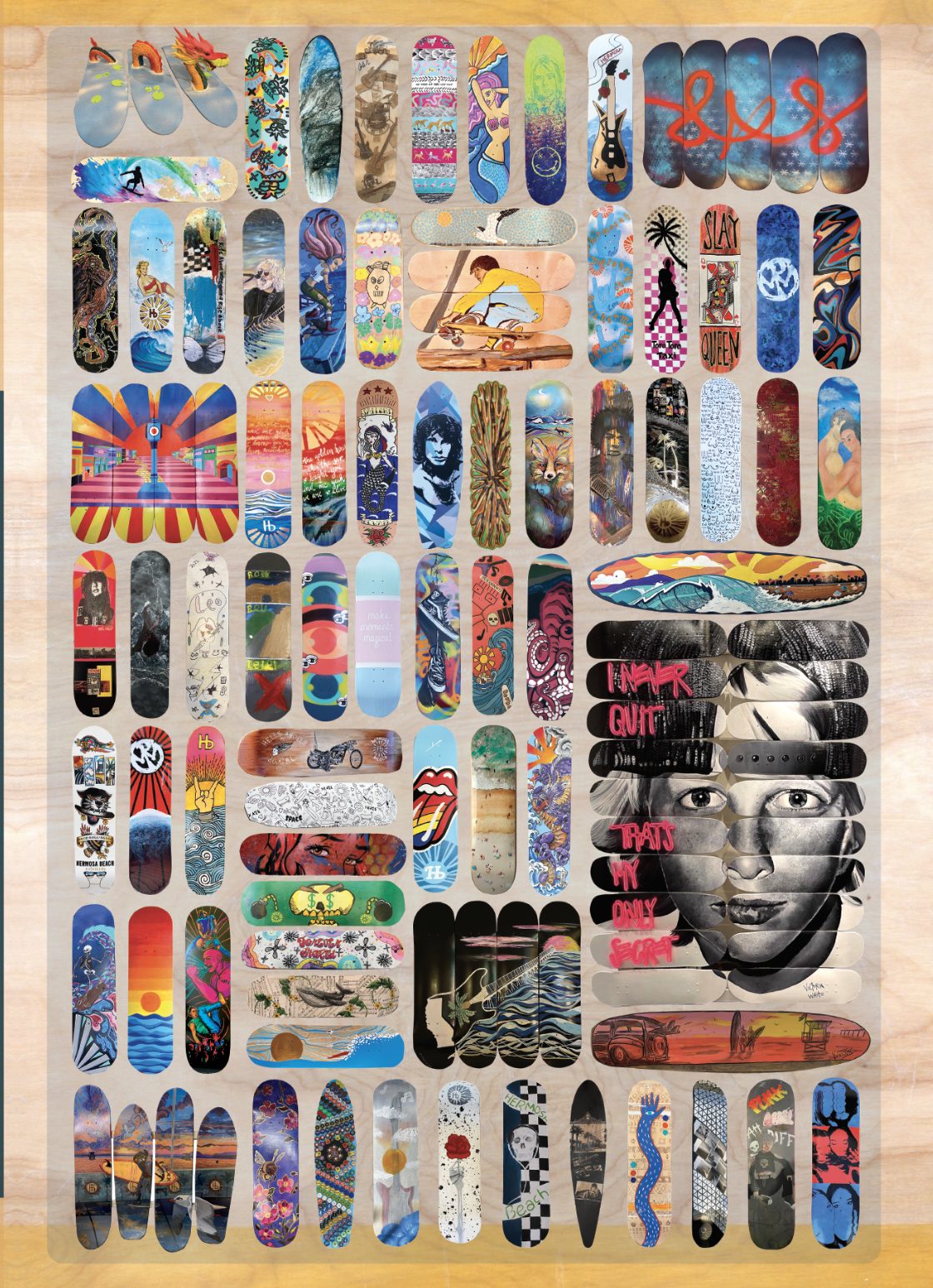 Rock, Roll & Rebel with….
....(Skate)Boards Across Hermosa, a city-wide art installation that pays tribute to Hermosa's unique history is currently on display in Hermosa Beach businesses through St. Patrick's Day. Using skateboards as the canvas, 83 artists have created 92 pieces of art. The skate art is up for auction with sales benefitting Indivisible Arts, a Hermosa non-profit a South Bay 501(c)(3) nonprofit dedicated to cultivating creativity, consciousness, and connection through the arts. The exhibit and auction comes to a close on March 18 at Indivisible Art's State of the Art fundraising gala.
Artists range from professionals whose works sell for tens of thousands of dollars to Hermosa Valley and View art students just discovering their talent.
Skateboards have a meaningful history in Hermosa Beach. Skateboarding Hall of Fame icons, manufacturers and innovators all started their careers here in Hermosa Beach, and in 1963, the first skateboarding competition was held at Hermosa's Pier Avenue School (now the Hermosa Beach Community Center). Academy Award nominated Skaterdater (1966), the first skateboarding film ever made and nationally distributed by United Artists, was shot entirely in the South Bay. Today, skateboarding is a preferred mode of transportation in Hermosa, with skaters a constant sight in the street, the Strand, and parking structures throughout Hermosa.
The exhibit's theme "Rock, Roll, Rebel: Hermosa Beach" is a tribute to Hermosa's history of cultivating different approaches to music, art, literature, sport, and lifestyle. Among the skate art, boards reflect Hermosa's punk legends Black Flagg, The Circle Jerks, and Pennywise, jazz musicians at The Lighthouse Café, roller skaters that went afoul of the city police from time to time, the Hell's Angels that made Pier Avenue their headquarters, as well as legends like Jim Morrison who is said to stop at Mickey's Deli to grab a sandwich from time to time. Other boards reflect Hermosans chill approach to life, surf, and the beach we call home.
Go see the skate art at businesses below!
Paired Businesses and Artists
| | |
| --- | --- |
| Business Name (alpha) | Artist Name |
| Art Zone | |
| Baja Sharkeez | Rob Graves |
| Baker, Burton & Lundy | Dan Wonderly |
| Beach Beauty | |
| Beach Bound Sports | |
| Beck & Brix | |
| Becker | Celeste Munoz |
| Becker | Josh Barnes |
| Becker | Milena López |
| Becker | |
| Blue Rose | Lynnae Talavera |
| Bottle Inn | Brent Broza |
| Bow Wow Boutique | Sara Reedy |
| Hermosa Beach Chamber of Commerce | Eva Asiddao |
| Hermosa Beach Chamber of Commerce | Lui Amador |
| Coastal Lane Nail Bar | Alicia Clapper |
| Cultured Slice Sandwich Shop | Dee Dee Harker |
| curious... | Jessy Mc |
| Decadence | Jennifer Sayre |
| Details | Anjalé Perrault |
| El Tarasco | Isabel Aguirre |
| ET Surfboards | Chip Herwegh |
| Fantasy Nails | Beth Bowen |
| Floyd's 99 Barbershop | David Nelson |
| Flying Sirens | Jayime Jean |
| Fox & Farrow | Emily Tanaka |
| Fritto Misto | Michele Goffeau |
| Froggies for Fun | Monroe "Mo" Johnson (age 7) |
| Fundamental Coast | Amy Keller |
| Gitana Coffee | Kristen Sanzari |
| Granny's Grocery | |
| Green Store | Cole Vernon |
| Guisado's | Liz Lopez |
| Gum Tree Cafe & Shop | Marie Recine |
| H2O Hotel | Art of Chase |
| Hammitt | |
| Hb Historical Society | Chelsea Stambler - second board |
| Hermosa Brewing Company | |
| Hermosa Pie & Cake | |
| Hermosa Saloon | Cole Vernon |
| Jack's Surfboards | Adam Wagner |
| Japonica | |
| Jessica Rose | Victoria White |
| Jol Designs | Emma Goeldner - mirror Hermosa |
| Kalihi | |
| Lucky 7 Coffee | Stacia Costa |
| Marlin Equity Partners | Ava Fielder |
| Marlin Equity Partners | Bella Wynne - Rockin' Hermosa Beach |
| Marlin Equity Partners | Grayson Roberts - Skull Bomb |
| Marlin Equity Partners | Julia Keaney - DeathFloss |
| Marlin Equity Partners | Malia Miller - Deadly Beauty |
| Marlin Equity Partners | |
| Marlin Equity Partners | Sadie Alexander - Rock n Skull Hermosa |
| Marlin Equity Partners | Stacey Ripley, Hermosa Valley Art Teacher |
| Marlin Equity Partners | Timmy Brennan |
| Marlin Equity Partners | Trever Huo - Hermosa Pier Rock n Roll |
| Marlin Equity Partners | Violette Alshin |
| Martha's | Josh Barnes |
| Maximus Salon | Riley Roberts |
| Mickey's Deli | Kevin Daly |
| Mike's Guitar Parlor | Armelle Ngo |
| Miss Bee's | |
| Mobi Scooters | Gus Songg |
| Oakberry | Francziska Steagall - Toro Toro Taxi |
| Paradise Bowls | Erin VanSloten |
| Patrick Malloy's | Elle Starlight |
| Pedone's | Alex Hixson |
| Pier Medical Aesthetics | |
| Playa Hermosa | |
| Powers Realty | Emma Goeldner |
| Practical Magic Apothecary | Danette Mitchell |
| Red & Louie's | Wendy Stillman |
| Resin | Victoria White |
| Rok Sushi | Luke Osterkamp |
| Sea Sprite Hotel | Kerry Stitt |
| Seymour Jewelers | Katy Jenssen |
| Soho Yoga | Jamison Wallis |
| Sol Baby | Keith Brinker |
| Spyder | |
| Spyder PCH | Joanna Garel |
| Stretch Spot | Ashley Huebner (Mom/Contact Leanne) |
| Sugar Dayne | Audrey Gilmore |
| The Bike Shop | Adam Wagner |
| The Lighthouse Cafe | Francziska Steagall - Lighthouse |
| The Source Cafe | Marie Recine - Bonus Blue Board |
| Tower 12 | Jane Miho |
| Uncorked | Nicole Sherman |
| Undergound Pub & Grill | Peter Marquis |
| West Coast Sweat | |
| Wicked+ General Store | Kevin Smigel |
| Zane's | |