Monday, January 24, 2022
5:00 PM
The Lighthouse Cafe
Thank you for attending the Best of Hermosa gala. We had a wonderful evening of connecting, awarding and enjoying Hermosa. It was a wild success, full house, and fun event.
Our winners are listed below. Congratulations to all who were nominated. We can't wait to celebrate with you next year!
Photos are provided at the bottom of this page.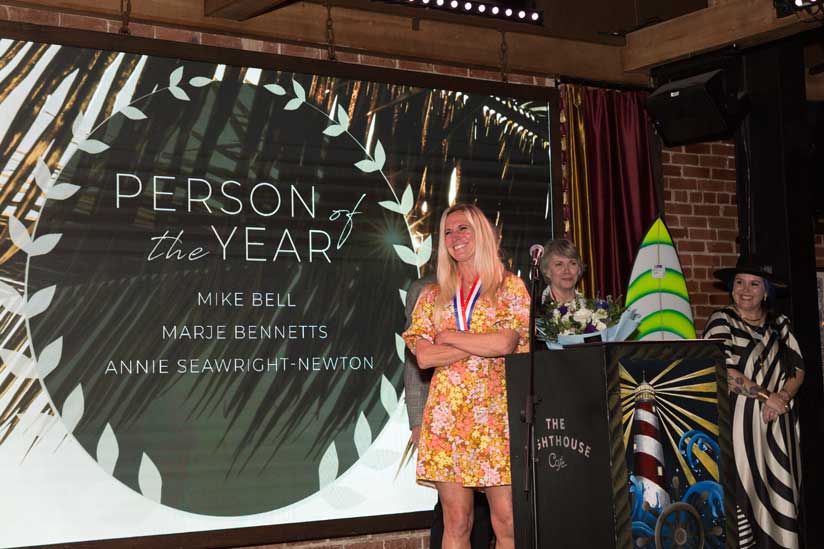 This category was formerly known as the "Man and Woman of the Year Award." A long standing Hermosa tradition, the Hermosa has been recognizing two extraordinary citizens in Hermosa for many decades. This award goes to civic members who go above and beyond for their community.
WINNER: Annie Seawright-Newton
Annie Seawright is a local legend and no one defines the spirit of Hermosa Beach more than her. She is Hermosa royalty. Her grandparents founded the venerable Seawright volleyball tournament in 1968. Annie is a world class athlete in her own right. She competed in the Olympic trials for the steeplechase and has won the Hermosa Ironman an astonishing 15 times. She has coached generations of runners at Mira Costa and organizes a group of volunteers for just about every event put on by the Hermosa Beach Historical Society. Annie is Hermosa's sweetest woman and an absolute pillar of the community.
Mike Bell
Michael Bell was born in Santa Monica and raised in Redondo Beach. He founded Bell Event Services 20 years ago, providing sound and lighting for special events. He remembers walking around Fiesta Hermosa as a child, having no idea he would someday run the event and grow it to become the largest Street Fair in the South Bay. Everyone knows Mike and he's come to be a treasured asset to our best little beach community.
Marje Bennetts
Marje Bennetts is the former General Manager of the Beach House Hotel. During her 8 year tenure with the hotel (retiring in fall 2021) she was extremely active on the Chamber, including two three-year terms on the Board, which included chairing Marketing and as Co-president. She also served on several City committees. Marje worked hard in 2020 with the reorganization of the Chamber and was passionate to make the Chamber a close partner of the City and the business community. As a hotel, the Beach House was consistently active in Chamber activities and in hiring and securing many local products within Hermosa. She loved the Fiesta, enjoyed supporting locals and was a strong supporter of the Mural project. She continues to love Hermosa Beach.
The Best of Hermosa award distinguishes the very best of business in Hermosa Beach. It is presented to a business that has a major presence in the city, excels in quality customer/client service, is favored by locals, and respected by its employees. The recipient also exemplifies excellent Hermosa citizenship in giving back to the community in which it operates, and has a culture that enhances the lives of its employees and neighbors.
WINNER: Uncorked
Ever wonder about that vintage storefront on the corner of Pier Avenue and Monterey with the words "Wine Tasting" above the door? A dream of three South Bay friends, Uncorked just added a second store in Manhattan Beach and recently celebrated its tenth anniversary in Hermosa. In addition to providing unique wine-tasting experiences, Uncorked carries more than a thousand award-winning and hand-crafted boutique wines as well as gourmet snacks and wine-related gifts and merchandise. If you haven't been into the shop, you may have seen them pouring wine at one of the many local Hermosa and South Bay charity events they support. What began as a humble wine shop has blossomed into a community hub, a place where friends meet for a wine tasting, a party (the "wine cellar" is available for gatherings), or to hear live music on their outdoor terrace. Over the years Uncorked has become the sort of place where "…everybody knows your name." Cheers!
curious...
Started in 2009 with a recession raging Bryce Toney created the world of curious… A quirky gift shop that covers vast amounts of stationary and the most eclectic selection of home goods and gifts with a drizzle of small furniture. Going on 13 years, the shop is now run by Bryce Toney & Andrew Gawdun, whom met in the shop in 2012 and married in 2015. They consider it to be the Best Pop & Pop Shop in all the land, well for sure Hermosa Beach, CA.
Gum Tree
Will and Lori Ford, opened Gum Tree Shop and Cafe on November 1, 2008.  Gum Tree is a true family business, Will runs the cafe and handles the books, and Lori runs the shops and handles the marketing.  They make a great team, and along with their incredible staff, they strive to give their customers the very best experience every day.  They are happy to have created a business that has become a gathering place for this wonderful community, and they are beyond honored to have been nominated for this award.
Hermosa Cyclery
Hermosa Cyclery's charming story began with their founding in 1974 by Harold Schumaker. Schu willed his bike shop upon his passing in 2002 to 4 "kids" who worked for him 5-10 years each in the late 70's and 80's. Now the Hermosa Cyclery is known as a community staple. Residents and visitors alike know exactly where to go to fill their tires with air or buy a new bicycle. Their employees are always helpful and smiling and Hermosa Cyclery participates in all community activities when invited. They are a true example of a hometown small business. The sun is always shining on Hermosa Cyclery, here in beautiful Hermosa Beach.
Recognizes a business with a proven record of exceptional generosity and local involvement that has gone above and beyond through partnerships with, investments in, and pro-bono work with a variety of organizations and issues in Hermosa Beach. They are dedicated to helping others and making a positive impact in the community.
WINNER: Hermosa Cyclery
Hermosa Cyclery may be best known as the bike shop with "free air" for bike tires near the Strand in Hermosa Beach. Their charming story began with their founding in 1974 by Harold Schumaker.  Schu willed his bike shop upon his passing in 2002 to 4 "kids" who worked for him 5-10 years each in the late 70's and 80's. Hermosa Cyclery continues to pay it forward and participate in numerous nonprofit fundraisers and community events. Even during the pandemic, HC was offering a free bike giveaway to local nonprofits who needed to fundraise. The owners regularly offer advice and assistance to the community when needed and provide the famous bicycle parking lot during Fiesta weekends free of charge to the community and Chamber.
Amaloa Healing Arts
Amaloa Healing Arts had been a member of Hermosa Beach since 2011 and serves the community with Reiki, Reiki-training, sound Baths, hand-picked crystals, original aromatherapy blends, hand-made jewelry as well as spiritual pieces. The owners, Amaloa and Cesar, create original artwork that is seen through the shop. Amaloa Healing Arts welcomes everyone and is beloved for the wonderful energy that is felt by just walking in.
Higher Grounds Management
Higher Grounds Mgmt has been helping Hermosa and the beach cities families for almost 4 years. They are a one-of-a-kind in your home behavioral intervention service that takes pride in doing things differently. To date they have helped almost 300 families and teens with substance abuse, coping skills, confidence, eating disorders, attitude, school and grades, mentorship, accountability, and most of all achieving results. Sometimes therapy and prescription medication doesn't get the job done, but these guys do! Whether your loved one needs early intervention or aftercare services their team covers the entire spectrum.
Wicked+
Started by Hermosa residences and brothers Brian and Colin Cooley, Wicked+ is a modern-day general store eponymously named after the duo's award-winning creative agency -- also headquartered in Hermosa Beach. The General Store offers a selection of quality, lifestyle-minded products, each with a story to tell and an inherent value to enrich your life. Beyond the store, Wicked+ is committed to giving back to the community: From raising $50k+ for the Downtown Hermosa Beach Small Business Relief Fund at the beginning of COVID and being a regular sponsor to the local schools and many charitable organizations to being a force behind the efforts of the Downtown Hermosa Business Association.
Recognizes diverse, inclusive and gender-equal businesses for rising to the challenge and operating outside the norm. Their ethical business practices, community involvement, contributions to growth and diversity, and the special flair bring great value to the City.
WINNER: Cultured Slice Cheese Shop
As a strong woman, sole proprietor, and mother; Solange Comers business practices and decisions reflect just that: a respectful, empathetic people-person yet firm and strong in her beliefs. A sign in the cheese shop reads "Be nice or leave" as a perfect example. As a part of the queer community, she has established her Cultured Slice businesses as safe places for all walks of life, and plans to continue these efforts however she can, including things like painting life guard towers to show all of Hermosa is a safe place. As a business owner, she continues to grow through taking risks and not being afraid to ask for help, but also trusting, listening and collaborating with her team as an equal team member herself.
El Tarasco
The El Tarasco family-owned business is both unique and special to our community. Woman-owned, hispanic-owned, and LGBTQ-owned, El Tarasco is the trifecta. But they aren't great because of ownership, they're great because of their heart. Krystal has led the charge in giving back to our schools by giving gift cards to our local teachers for all their hard work. She recognizes that is takes a village to raise the next generation of community leaders. Krystal's tireless efforts do not go unnoticed by those who now her. Krystal and her family are always and I mean always on the "Giving Tree" side of our community. Whether it's donating food for an event or providing continuous "local" discounts, they are a truly local business that treats every member of our community like an extension of their family. They care about being a part of the fabric of this City. That's what it means to be Hermosa business.
The Londoner Salon
As our local celebrity and always-cheery business owner, Anthony Morrison approaches every challenge with positivity. He joined the City's Economic Development Committee to try and bring about positive change and hang flower baskets up and down Aviation. He wants to beautify Hermosa Beach and he's always getting creative about how to help his neighbors. He started a GoFundMe for Ocean Diner employees when they closed due to the pandemic. Anthony also started a floral business during the pandemic to bring even more joy to our community. He has many talents and shares them with our community generously.

Recognition of a Hermosa maker or artist whose products are treasured by locals and found online or in local stores. This award goes to the entreprenuer who spends days and nights making something truly unique and is proud to claim "made in Hermosa." (not applicable to restaurants and breweries)
WINNER: Spyder Surfboards
Dennis started building boards in 1974, as an airbrusher, he sprayed for almost every brand in Hermosa Beach—Becker, ET, Unity, Reef, Jacobs—the list goes on. As a world Professional surfer, Dennis began shaping his own boards for himself as well as the worlds best surfers, all built right here in Hermosa Beach.  After his Pro career, Dennis opened his shop on PCH and Artesia that was 1983 (39 year ago), but fast-forward to the 90's and Spyder Surfboards became one of the top surfboards sold in the USA (if not THE world) Producing 10-12,000 boards a year based out of Hermosa beach. Spyder surfboards have been on the cover of more magazines than any other Los Angeles county based (or Hermosa beach) surfboard manufacturer (since the 60's). Dennis was hired to create the surfboards for the hit film POINT BREAK, each board was made in Hermosa Beach, as well as being the technical advisor he taught the entire cast how to surf! Dennis still shapes each surfboard himself at his shaping "shack" on 6th street in Hermosa Beach.
Jol Design
Jol Design, has been a favorite Hermosa Beach business since the start of our company in the summer of 1994. They have had the privilege of screen printing and embroidering for many of our local restaurants, shops, schools, non-profits, small businesses, as well as large corporations—and of course the Chamber! Jol Design has had the pleasure of working with many community members on their personal designs and projects—a fulfilling task, being Hermosa residents themselves. The Jol Design team is very proud to be nominated and looks forward to many years of producing local products for local businesses.
Practical Magic Apothecary
Emie Fenton, herbalist and owner of Practical Magic began making tea blends, tinctures, balms and the almost famous craft cocktail kits in her little kitchen on 5th street. She sold them in a few local shops but always had a dream of opening her own apothecary which she eventually did on Hermosa Ave. With lots of success, she upgraded the space and Practical Magic Craft Cocktail kits are now available in 80 stores across the country and Canada. Emie plans to extend her craft cocktail line under the brand name HBCraftCo. aka Hermosa Beach Craft Cocktail Company. It doesn't get much more made in Hermosa than that! Emie, Lauren, Rekara, Chris, Alexander and Alana are always happy to help customer find the right thing for them and they can even make custom blends! Stop by and say hi and don't forget to visit the new Zero Waste + Refill Shop next door!
Recognition of a new business that opened during the pandemic and exemplifies what we want in a Hermosa business. Must be physically located in Hermosa Beach and opened January 2020 or later.
WINNER: The Stanton HB
Jason and Stacy live in Hermosa and opened The Stanton in February 2020 and close their DTLA location. They added art to the outside of their building and created an inviting patio and generous vibe. They're interested in longevity in our community and I think any restaurant that opened right at the beginning of the pandemic and survived is a testament to how they run their business. The Stanton HB is a people-driven business from their team, to the live musicians they feature, to the artists they display, and most importantly the patrons they welcome, that are probably considered fans!
Burn the Ships Electrics
BTSe is the elite Supplier of E-Mopeds, E-Bikes, (defined as E-Mtn/E-Cruisers/E-Urban), E-Dual Sport MotoX (under 125cc), E-Skateboards, E-Surfboards (non-foil) / E-Fins, E-Scooters & accessories for outdoor enthusiasts seeking something special with street credibility. BTSe is not your ordinary E-Bike, Surf, Skate, or Scooter shop. We create an experience that the discriminating buyer of expensive direct to consumer products will want to be part of. At BTSe, clients can kick the tires in a tech savvy showroom. Come share our vision of the future, plug into your tribe & ride with us.
Fox & Farrow
Michelin-worthy restaurant with a speakeasy vibe, friendly service and a fun Hermosa attitude.
The Brews Hall
Four unique food concepts under one roof in partnership with George Lopez and Colin Cowherd, located on the famous Hermosa Beach Pier! Award-winning extensive craft beer list and custom seltzers freshly brewed at our sister location brewery in Torrance, CA  plus a full bar with signature margaritas, boozy milkshakes, Navy Grogs and more. We are obsessed with great beer and craveable food and have created a community hub we think you'll love, while giving back as much as possible! Pull up a chair and stay for awhile.
Special recognition award to honor the hard work, dedication, and sacrifices of an individual first responder who exemplifies what it means to be a Hermosan day to day and serve our community during good times and bad. We welcome HBPD, LAFD Station 100, LA County Lifeguards stationed in Hermosa, and healthcare workers working or living in Hermosa Beach.
WINNER: Jonathan Sibbald, Sergeant HBPD
After working at three other police departments Jon came to Hermosa Beach PD 20 years ago to police in his backyard. Jon is a graduate of Redondo Union, El Camino and Dominguez Hills—a true local. He's worked several assignments while at HBPD; patrol, community lead officer, field training officer and detectives. He was fortunate to promote to sergeant and is now the field training sergeant. Jon's most important achievement was convincing the department to have an in house use of force program in 2004. Sibbald was preaching for 15 years that officers needed to train in jiu jitsu more that once a year, so he proposed a Deescalation-  Police Ground Control Techniques (PGCT) program.  It's designed to make officers more comfortable in use of force situations so they can arrest people with the least amount of force necessary. A well rounded officer will serve the community best. Jon proudly continues to ask his Officers to patrol Hermosa Beach as if it's their backyard like he does. As he says in briefing, "How would you want Officers to handle the call where your mother lives?" "Then do that here and do the job right the first time."
Pat Aiello, Meter Officer (retired 2021)
Retired in April of 2021, Pat treated everyone she contacted with respect. She wanted visitors to come back, and residents and business owners to feel safe and represented.  Sometimes that meant doing the hard enforcement thing, many times that meant doing the kind, compassionate, "over and above"  thing.  Pat was a resident too, and is proud to have been a part of HBPD.
George Brunn, Detectives HBPD
George Brunn has been with the HBPD for 20 years. During that time he has served as a Field Training Officer, Acting Watch Commander, Mounted Enforcement Unit Officer, Narcotics K-9 Officer and more recently assigned to Detectives.  George Brunn has received numerous accommodations throughout his career, including the Medal of Valor Award for talking a suicidal female off a 3rd story balcony and 4 awards from MADD for the hundreds of DUI arrests he has made. Outside the Police Department, Brunn has coached youth soccer and baseball and has volunteered at his church, taking on the leadership role for youth in Cub Scouts.
Frank Valles, Building Inspector
Frank has been with Hermosa Beach for close to 8 years. He treats the city as if it were his family and even his own business. Frank invests his efforts in making it a success at all times. He's been fortunate to meet so many people that make his day on a daily basis. Frank looks forward to servicing the public for many years to come.
Chamber Member of the Year
Special recognition to honor a Chamber member who went above and beyond to help support the Chamber of Commerce. Can be a business owner or manager.
WINNER: Solange Comer (Cultured Slice)
Always there to volunteer a helping hand, Solange Comer has been a proud member of the Chamber. On top of providing a great business for the city of Hermosa, she has volunteered time and whatever else she could to help promote, organize, and attend Hermosa Chamber events and programs like Hermosa for the Holidays, the annual holiday gift exchange, donating cheese boxes and sandwiches to first responders and hospital workers during pandemic. She does her best to use her platform as a way to promote and partner with other local businesses like Uncorked Wine Shop, Stoked Chocolates, and other local start ups and long standing Hermosa businesses. She is looking to continue this effort when she opens her second Cultured Slice location, a sandwich shop on Pier Avenue.
Mike Bell (Bell Events)
As a Chamber member for over 30 years, Michael has been involved with much of the history within the business community. Being in charge of Chamber events has given him the opportunity to get know local business owners and residents. He has worked closely with Chamber leaders to help support businesses and keep the business community alive during the pandemic. Mike never says no and offers assistance to the Chamber whenever it needs a helping hand—whether for an event or not.
Laura Pena (Aesthetic Horizons)
Laura wants to improve our community one member at a time AND get sh*t done. She volunteers every time the Chamber needs help and took charge to make sure the Unsung Hero award happened at Locale 90254 when really she should have been receiving the award. She attends every single City Council meeting and Planning Commission meeting and reports back to the business community. She activates businesses to call in and advocates for businesses when it's needed and wants to see the Chamber succeed. She is a true cheerleader and champion of the Chamber.
The Nominated...
We would like to recognize all of the individuals who received a nomination. There were 241 total nominations and many of these people deserve to be recognized, even if they weren't a finalist. Congratulations to all!
*indicates non-member
Finalists have been removed because they are listed above
Person of the Year

Adam Malovani
Alexander Clark
Barbara Ellman
Izzy Bacallao
Kevin Cody
Laura Pena
Nicole Burke
Rafael McMaster
Shelby Tomlinson
Skylar Tourgny
Solange Comer
Stacey Armato
William Jason Palmatry
Tony Drockton
Best of Hermosa

Amaloa Healing Arts
Baran's 2239
Cultured Slice
Decadence
Devra Zandell Realtor*
Dew Mighty
Easy Reader News
Fancy Tails
Froggies for Fun
Hamilton Butler Jewels
Hammitt
Hermosa Brewing Company
Hermosa Hair Extension Bar
Hermosa Mexican*
Higher Grounds Management
Kate Lester Interiors
Pier Medical Aesthetics
Powers Realty
Practical Magic Apothecary
SoHo Yoga
State Farm Insurance
Sylvan Learning
The Brews Hall
The Spot
The Stanton HB
Zane's Resturant
Zuri Food
Making a Difference

Easy Reader News
Ready Fit Go
South Bay Buzz
Nolan Capital*
Chamber Member of the Year

Allen Sanford - Rockefeller
Brian Dunne - Details Tile & Stone
Kathryn Dunbabin
Marci Palla - Regal Tutoring
DIG Award

Decadence
Practical Magic Apothecary
SoHo Yoga
Sun & Sea Collective
Made in Hermosa

DEW Mighty
Jennifer Cervelli Jewelry
Lisa's Naturals
Stoked Chocolates
The Pacific Stranded
Zuri Food
New Business of the Year

Beach Cities Auto Clinic*
Beaches & Blooms*
Froggie's for Fun
Kalihi
POP Beach Rentals
Practical Magic Apothecary
Red & Louie's*
Sosta Cafe*
Stoked Chocolates
Tacos El Goloso*
First Responder

Brandy Villanueva
Chief Paul LeBaron
Photos by Hermosa Chamber member Lana Imbagliazzo with Lana Lee Photography www.lanaleephoto.com. Please give proper credit when sharing.