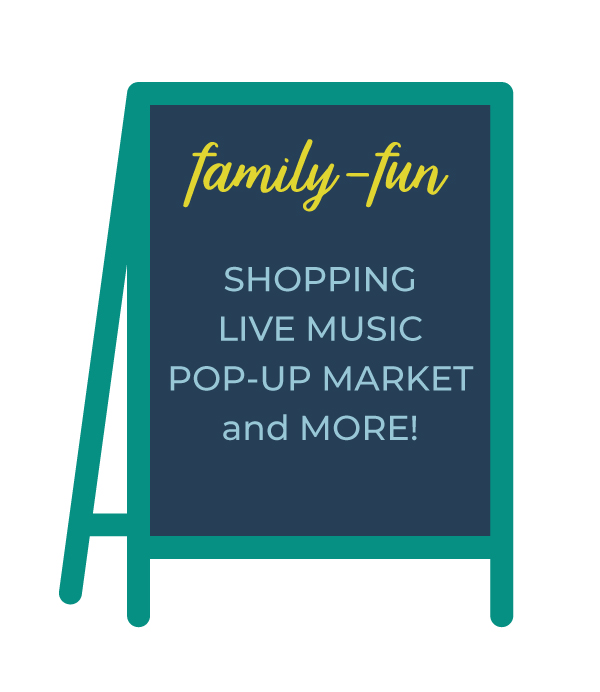 The Summer Sidewalk Sale & Celebration is back! Come out and enjoy a pop-up market on the Upper Pier sidewalk from ShopFest Collective and enjoy all your other local favorite shops and restaurants! And of course don't forget about the live music at Java Man all weekend long. Not to mention, this year we'll be having Lemonade Day on August 6 where local Hermosa students learn entrepreneur skills and pop up with their very own lemonade stand "business."
Thanks to the generous support of SkyOne Federal Credit Union. Come by Java Man to say hi and learn more about their memberships.
(This schedule is constantly being updated. Check back often.)
Icons and colors indicate where event takes place. Details for each event can be read further below on the page.
music talent booked by Secret Agent Entertainment
music talent booked by South Bay Music Connection
Participating Businesses & Sales to Shop!
Amaloa Healing Arts - 15% Off Storewide 
Art by Kimba
Beach & Beverly - Shop our Semi-Annual Sale // 30-70% Off
Beach Bound - 15-25% off
Bestswimwear - Hermosa Beach - Extra 50% sale 
Blue Rose
Coastal Calm by Jamie Lynn Marvin
Cultured Slice Sandwich Shop
curious...
Details Shoes & Accessories - Summer sales up to 70% off 
E-Bike Sense - $25 off for anyone who signs their Child up
Fundamental Coast - 25% -50% off select merchandise
Gum Tree Shop & Cafe - All Summer Sale items are 50% off!
Henna Artist
it's a teepee - Giveaway
Java Man
Milk Tooth - Complimentary Tomorrow's Tooth Screening
Mobi Scooters
Osoporto
P3 Theatre Company - Discount Code: HBSummer2023 for 15% off all productions at the Hermosa Beach Community Center/Second Story Theatre in 2023 (MGM in Concert - September 16 & December 2; A Chorus Line October 20-29)
Pier Medical Aesthetics - 15% off of all products 
Regina Chiu Jewelry
SkyOne Federal Credit Union - Sponsor
Sol Baby - 50% off sale merch, select summer items 25% off
Spyder Surf Shops
Stars Antique Market - Reduced priced items outside & 10% off all items within the store
Susan Sells Seashells
Treasure Chest
Uncorked - 20% off all merchandise 
Wicked+ A General Store - 20% Off storewide
World Of Sound Productions - 20% off tickets to Sunset Vibes @ Vista & 20% off silent disco rentals & services 
Zuri Food
...and more businesses added daily!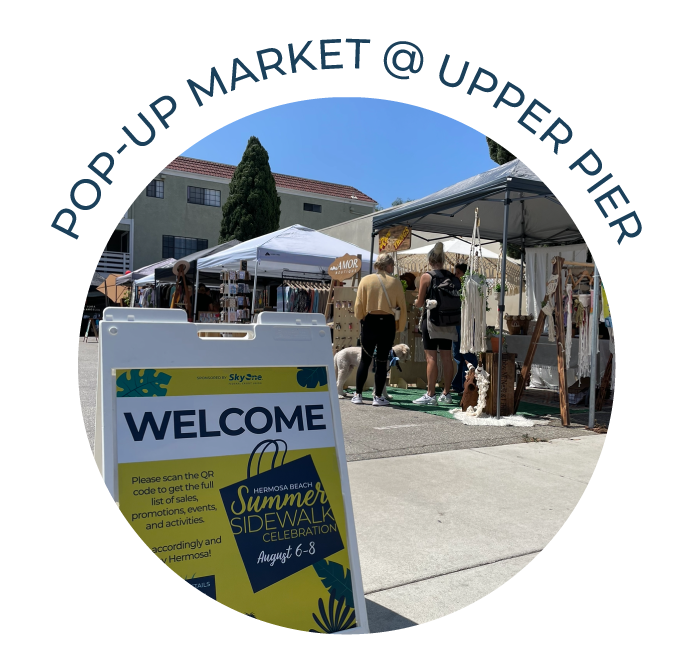 Location: Along Pier Ave. between Valley Dr. & Monterey Dr.
Saturday 10am - 4pm
Sunday 10am - 4pm
This amazing pop-up has been a fan favorite during the pandemic in the South Bay area. Learn more about Shopfest Collective here.
Come back to see the list of vendors each day.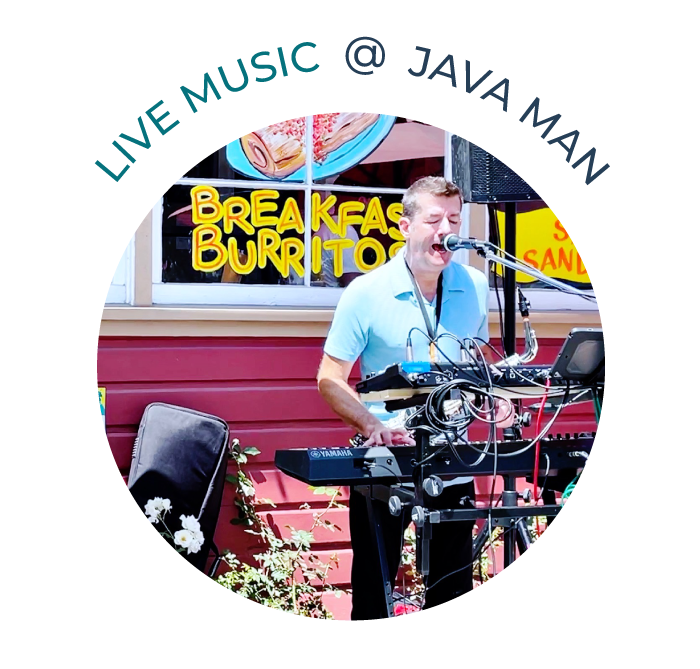 Location: Java Man
Saturday 10am - 4pm
Sunday 10am - 1pm
Saturday Lineup - Secret Agent Entertainment:
10:00-12:30 Chris Shaw
1:00-4:00 Jack Tracy
Sunday Lineup - Southbay Music Connection:
10:00-10:30 Filip Alexander
10:30-11:00 Aiden Lunzer
11:00-11:30 Michael Gourzis
11:30-12:00 Sophia Elena
12:00-12:30 Gretchen Dorr
12:30-1:00 Ella Gibson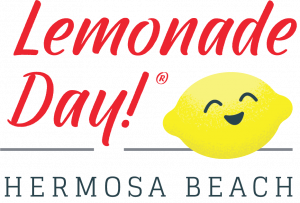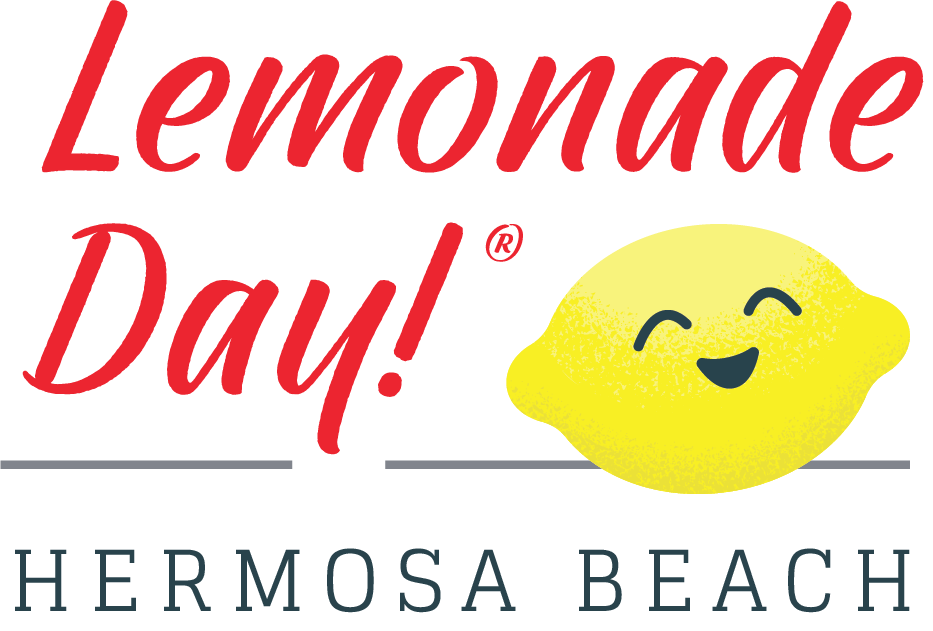 The Hermosa Beach Chamber of Commerce and Leadership Hermosa Beach are proud to bring 'Lemonade Day' to Hermosa, Sunday, August 6, 2023.
Lemonade Day is a national project with many communities participating around the nation. Hermosa Beach is new the program and we're excited to get started with Hermosa students.
The purpose of the project is to encourage and support young entrepreneurs and teach them what it takes to run a business.
A huge thanks to SkyOne Federal Credit Union for sponsoring this program!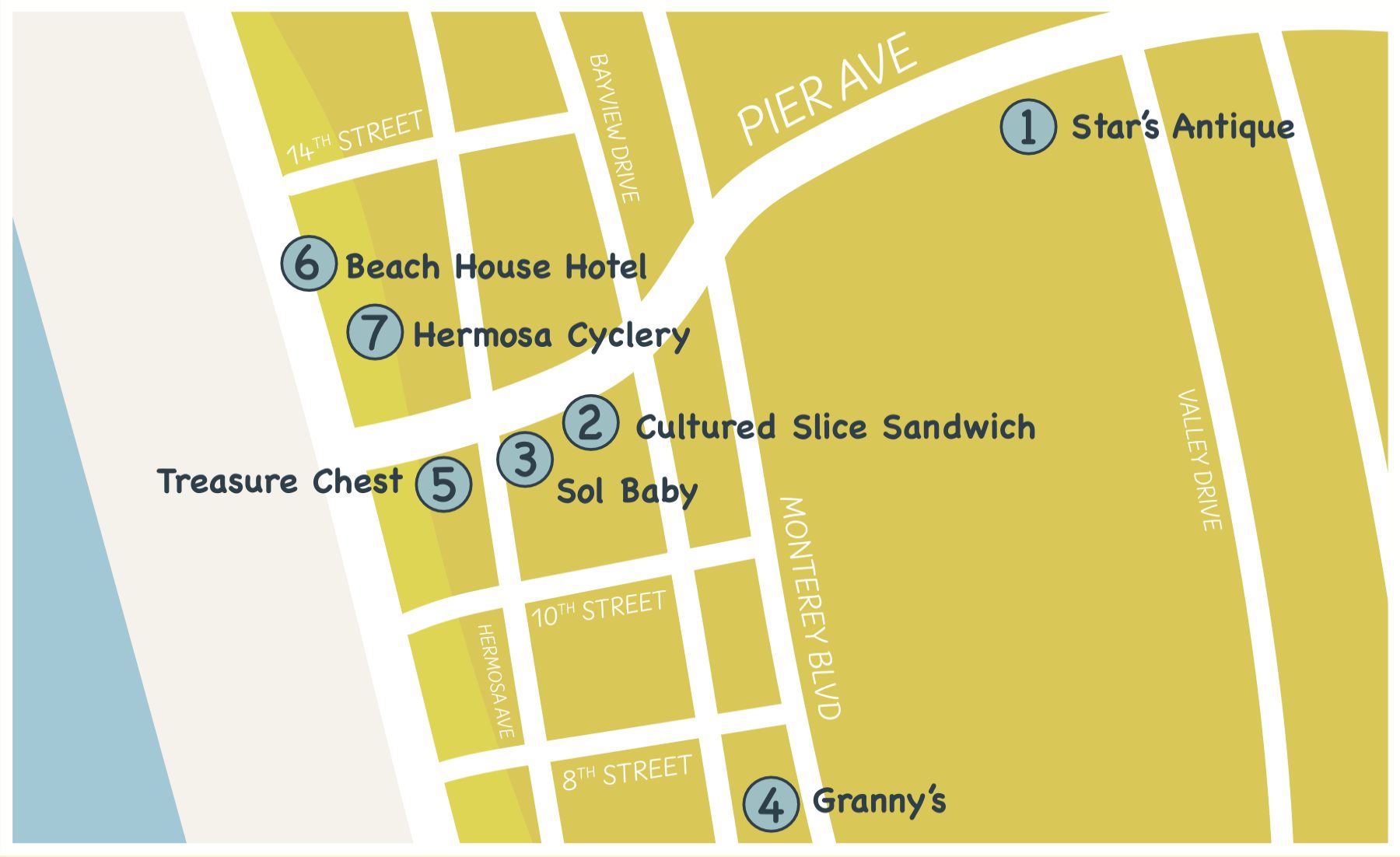 As part of the Lemonade Day festivities, we're hosting a scavenger hunt to encourage folks to patronize our young entrepreneur's lemonade stands! Pick up a post card at the Chamber of Commerce, or any lemonade stand, and identify all 7 lemonade stands for a chance to win a prize!* Drop off the completed post card at the Chamber of Commerce at 120 Pier Avenue by Monday, August 7 at 5pm. 
Stand Locations:
Star's Antique - 526 Pier Ave
Cultured Slice Sandwich Shop - 136 Pier Ave
Sol Baby - 124 Pier Ave
Granny's - 635 Monterey Blvd
Treasure Chest - 50 Pier Ave
Beach House Hotel - 1300 The Strand
Hermosa Cyclery - 20 13th St
Participation Rules:
All ages are welcome to participate. It's not just for kids!
*All submitted post cards are checked for completion and accuracy and raffled to decide the winner. The first submitted postcard drawn in the 'raffle' wins the grand prize!
Have fun!
We're a beach town and parking is always a little bit of challenge when it's a busy shopping weekend. That said, we're happy to tell you about plenty of open public parking in the Upper Pier district so you can plan your visit!
Thank You to our Generous Sponsor