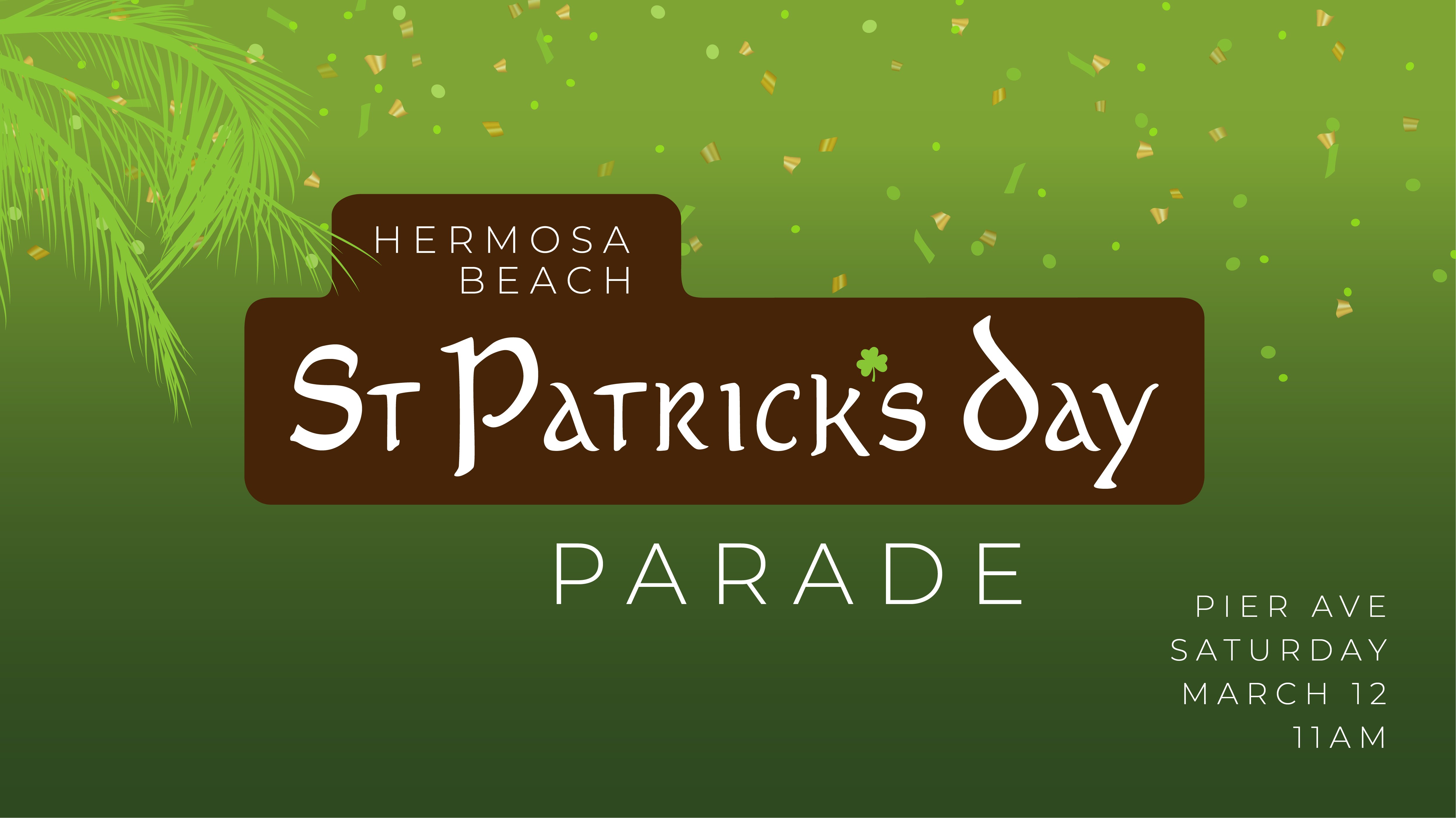 Thank you for attending the parade!
March 12, 2022
11:00 AM - 1:00 PM : Parade
1:00 PM - 3:00 PM : Activities on Pier Plaza (see below for details)
Downtown Hermosa Beach

We are excited to bring back this community treasured event. Enjoy seeing some of your favorite local nonprofits, unique vehicles, cool brands and more in this eclectic and diverse celebration of St. Patrick's Day.
Pier Avenue and Hermosa Avenue will be closed early morning Saturday so that the parade route can be well established. The community is welcome to line up on the street. Parade participants are not allowed to throw or toss items from the route but can hand out content to parade attendees directly. Enjoy the parade near one of the three announcing stages to enjoy information about each parade entry.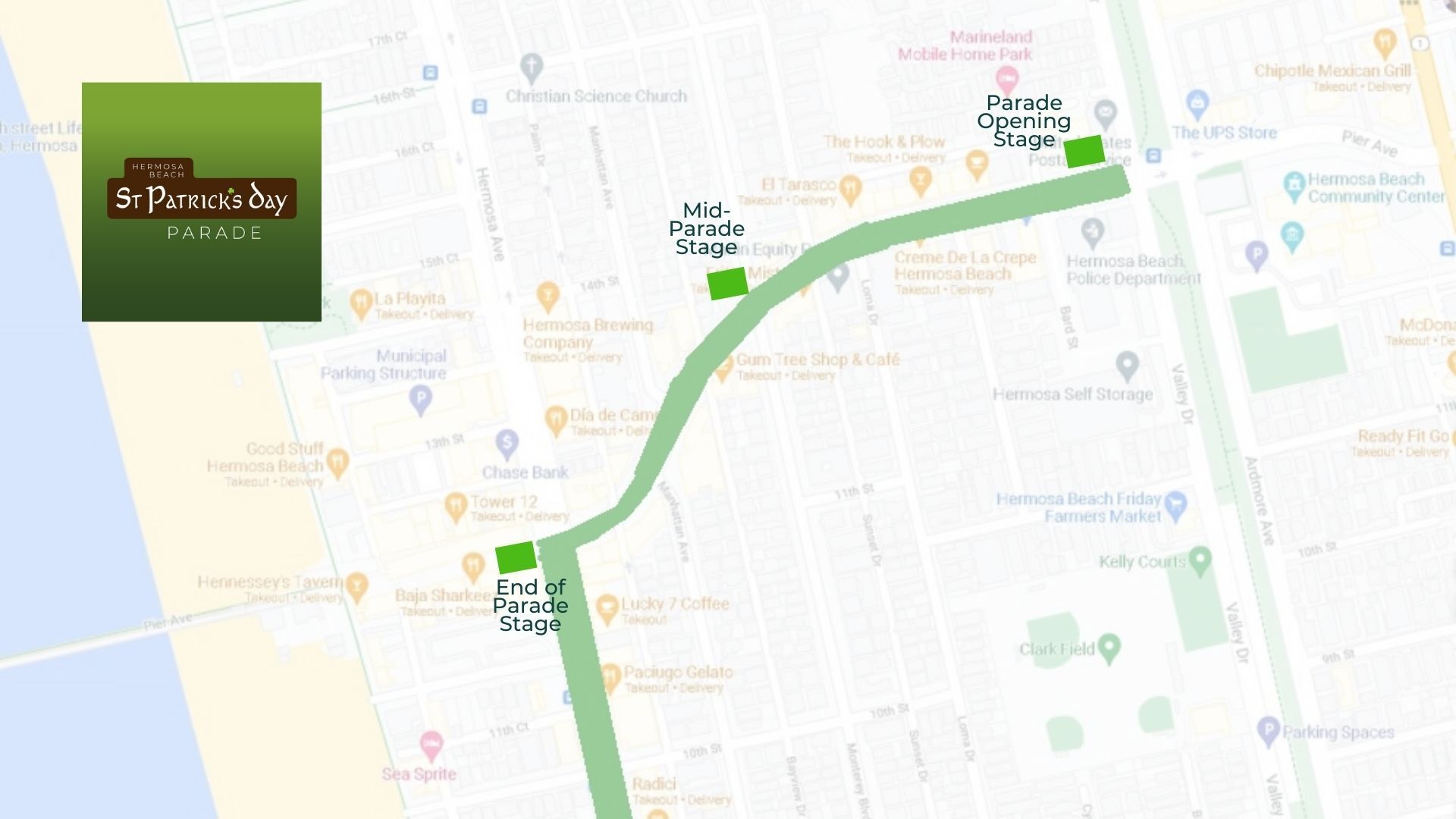 After the parade, come down to Pier Plaza to enjoy some added fun for families.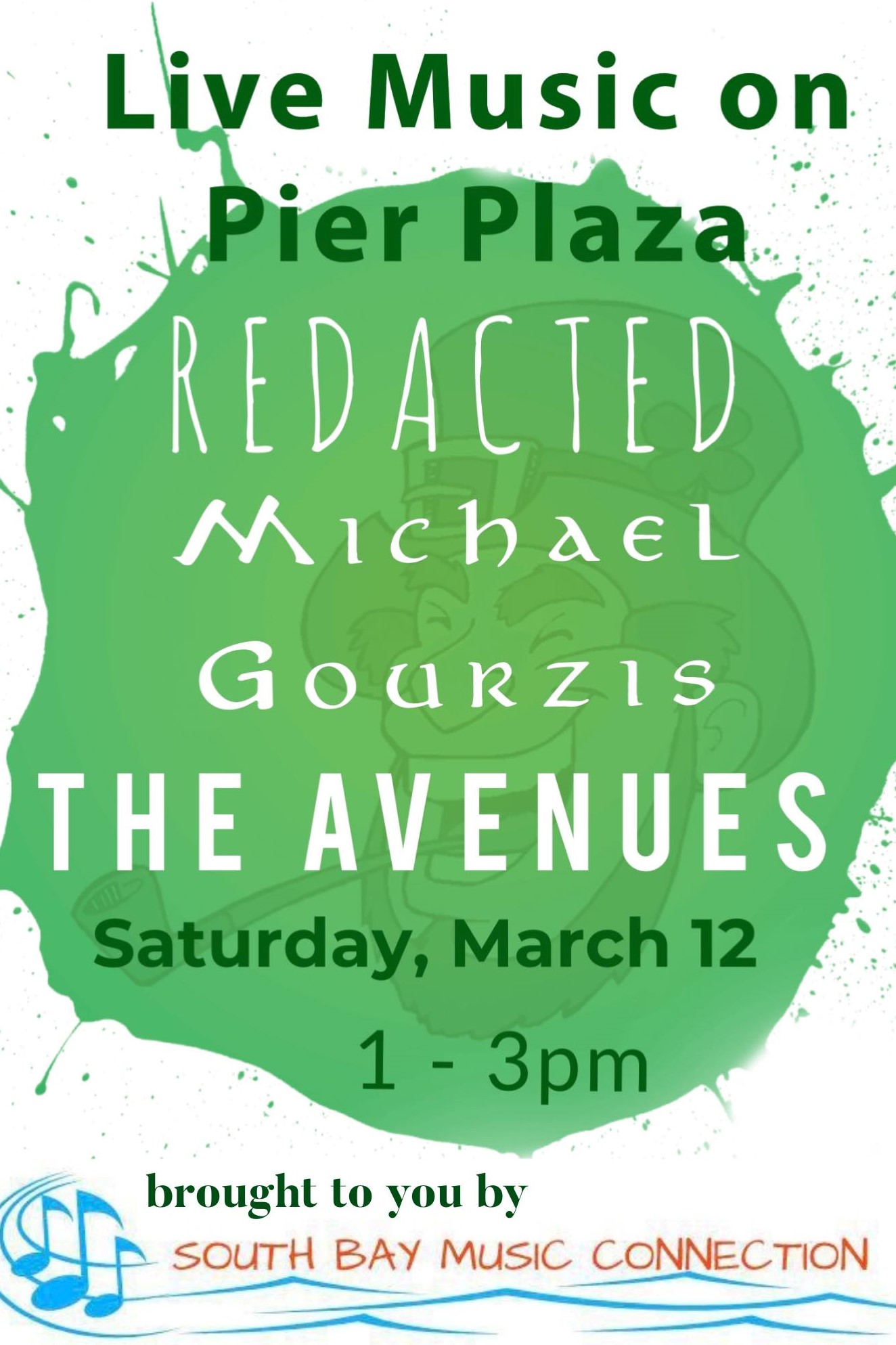 Music by South Bay Music Connection.
Incredibly talented youth.
1:00 - REDACTED
2:00 – Michael Gourzis
2:30 – The Avenues
South Bay Music Connection is a local non-profit that provides teen and young adult musicians with a place to showcase their talent and hard work. Please come show your support of these talented individuals.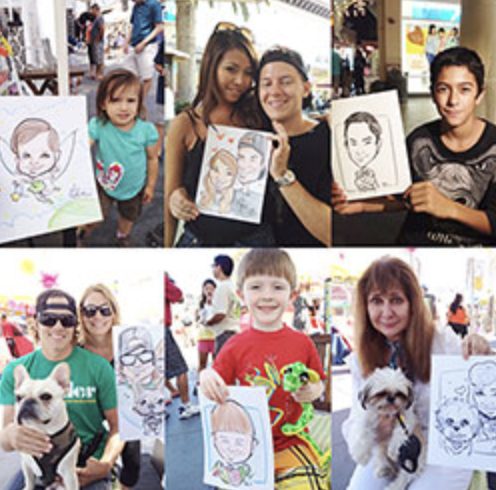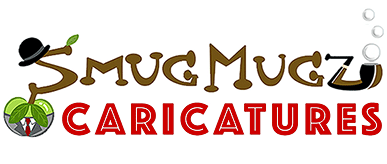 Come get a free caricature drawn by the talented Millie of Smug Mugz!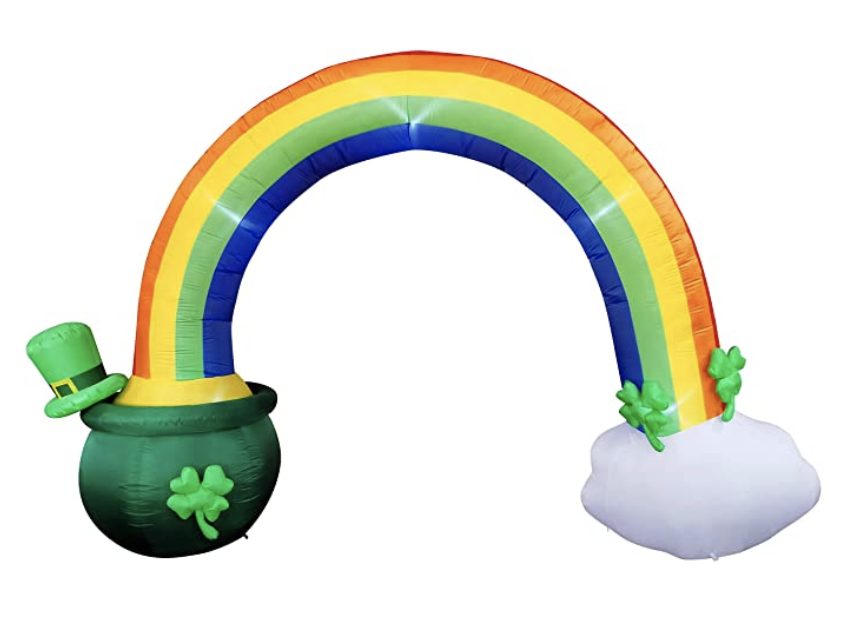 Lucky Selfie Station
Come take your pictures under the lucky rainbow!
Beach and Beverly 
"Lucky You" sale beginning March 11-18. All styles with a green ribbon tied to the hanger will be 30% off
Fox and Farrow
Chef Darren's Irish potato soup, corned beef with Irish potatoes and cabbage and Irish Crème Brulee.
Gum Tree
Gum Tree Cafe will have special green lemonade, a shamrock latte and cool green matcha drinks. In our Hermosa shop on Parade day and again on St. Patty's Day…take 20% off any green items!
Leprechaun Scavenger Hunt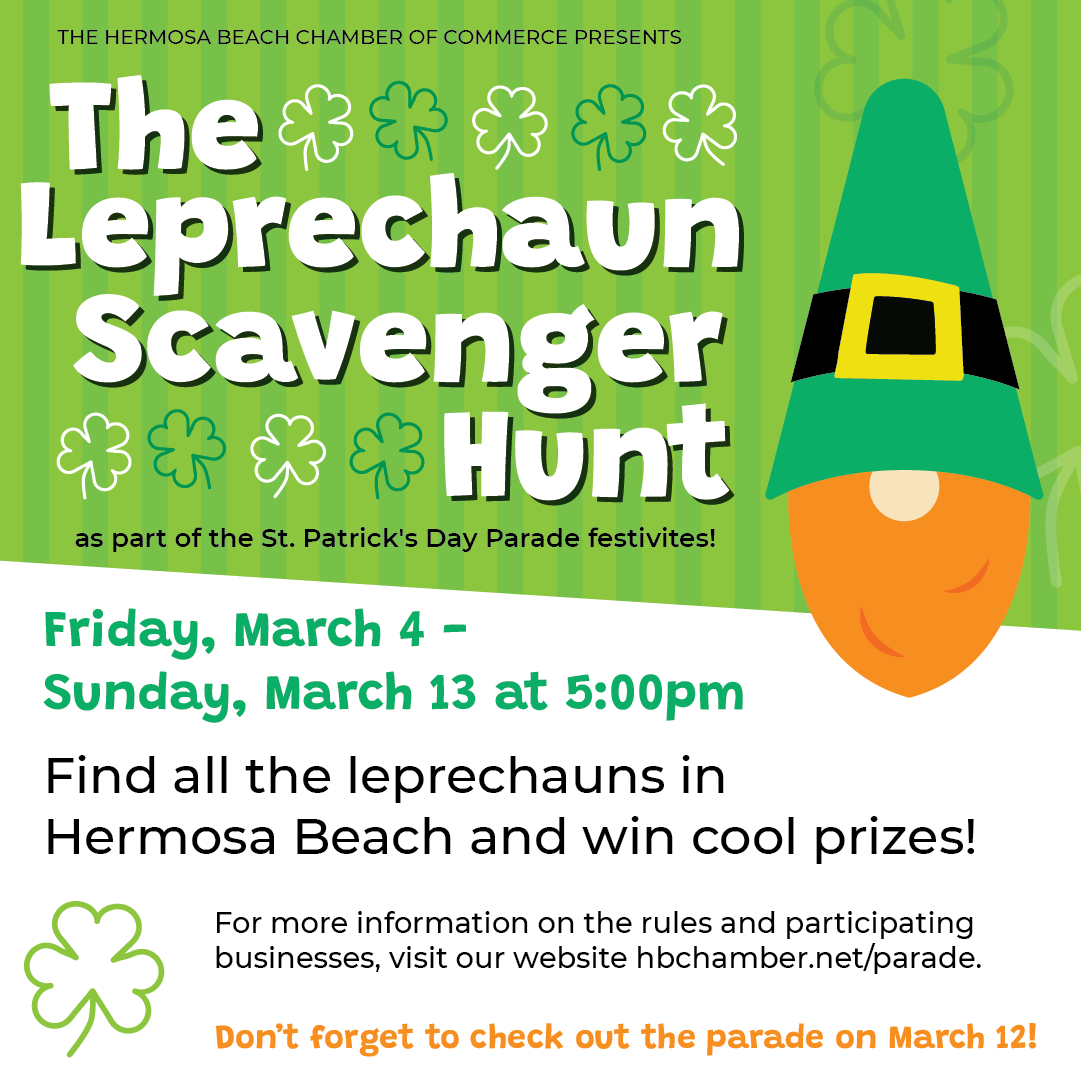 Join in the fun of Hermosa Beach St. Patrick's Day parade week and hunt for leprechauns! Pick up a participation postcard from any of the below participating businesses and find the leprechauns. You have until March 13 at 5pm to submit your completed cards to any of the listed drop off locations and be entered to win cool prizes! All ages are welcome to participate.
Drop off locations:
HB Chamber of Commerce
Gum Tree Shop & Cafe
Star's Antique Market
Sylvan Learning
Practical Magic Apothecary
Burn the Ships Electric
Beach & Beverly
Thank you to the following participating businesses!
Established in 1995, the original 'independent' committee solicited help from Kiwanis, Rotary, and the Woman's Club in order to put the parade on for 15 years before they ran out of energy and turned it over to the City of Hermosa Beach who continued the tradition for 2 years. The Hermosa Beach Chamber of Commerce took over the parade after that and still continues the tradition today.
"St. Pat's is a uniquely American event that only caught on in Ireland as a 'thing' in the 90's.  It was a celebration of the freedom Irish immigrants found in America to speak their language which was prohibited and practice their religion, also prohibited in Ireland by their English Colonial masters. "Step dancing" was also prohibited. 700 years the Brits ruled Ireland, mostly with an iron fist. The Irish in Boston & NYC began St. Pat's parades in the late 1800's."
South Bay News in 2019:
The Hermosa Beach St. Patrick's Day Parade began with a group of friends meeting at the old Fat Face Fenner's Saloon on Hermosa Avenue in Hermosa Beach. Organized by Co-Chairs Jean Cullen and J Travers Devine, the first Annual Parade was presented in 1995 and was an instant success. Since then what began as a group of Irish-Americans celebrating their heritage has morphed into a great 'hometown' local event drawing thousands to the streets of Hermosa Beach each year in a great celebration of community while retaining important elements of Irish heritage and culture.
We would like to thank Jody Leventhal and J Travers for providing this information and permission for us.