Last Updated on 1.22.2021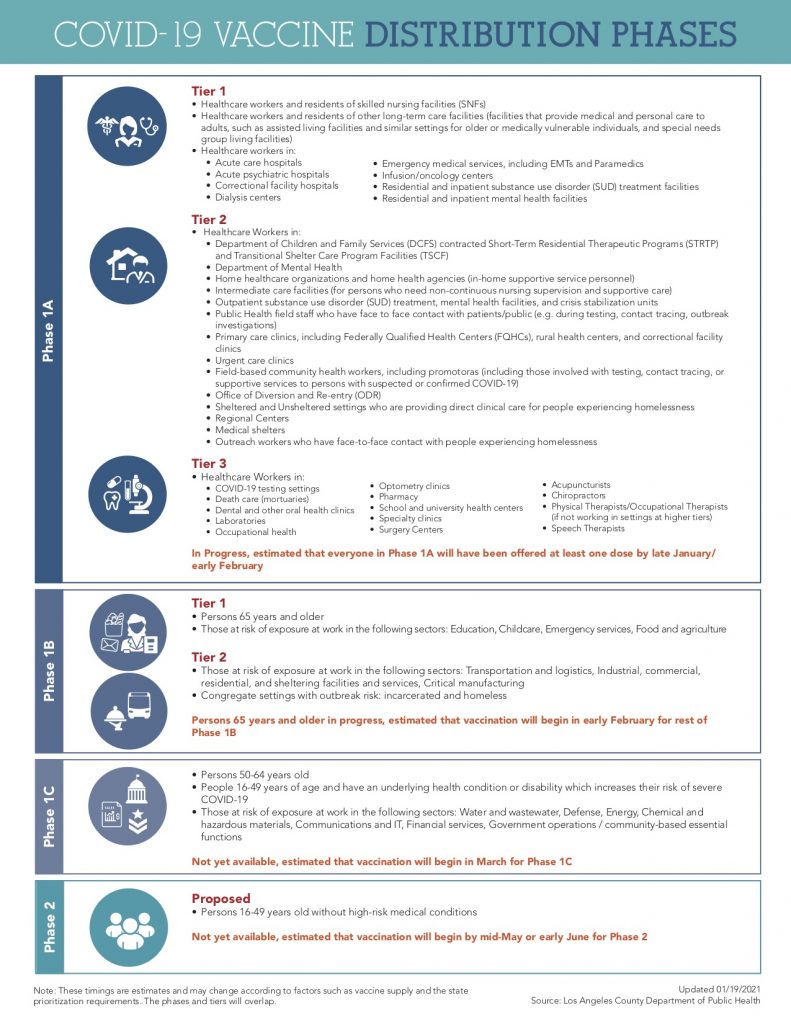 March 18, 2020- Farmers Market Update:
THE FARMERS MARKET IS CANCELLED UNTIL FURTHER NOTICE AS WE ARE TAKING PRECAUTIONARY MEASURES TO ENSURE THE SAFETY OF EVERYONE.
Due to the ever-changing nature of COVID-19, as of Tuesday, March 17th, the Wednesday Hermosa Beach Farmers Market at Pier Plaza has been cancelled until further notice. This is in response to City Policy and precautionary measures being taken to prevent the virus from spreading. SORRY FOR ANY INCONVENIENCE.
March 18, 2020- Coronavirus- Emergency Programs/ Financing/ Work
Sharing / Family Leave/ Payroll Tax Extension
Attn Chamber Members,

We are here working to keep you as up to date as possible and want to brief you on available resources.

Currently the Los Angeles County Economic Development Corporation
(LAEDC) are partnering with our Federal, State, and Los Angeles County
officials to bring any business affected by any slowdown or shutdown
with a variety of emergency economic programs (e.g. financing, work-sharing, paid family leave, payroll tax extensions, etc.) in an effort to help tide
businesses over during this coronavirus crisis. Things are very fluid and new programs are being announced by our government (Federal and
State) each day to help businesses. You can check out the link to see
updates on programs at https://laedc.org/coronavirus/ .

Attached are programs available now or soon to be announced to help
businesses. In the event that you may have to lay people off, there is a Los
Angeles County Rapid Response program that can assist laid-off or soon
to be laid-off employees with access to unemployment insurance and other programs that are available. We advise businesses to check into the
Work Sharing program offered through the California Employment Development Department (EDD) first before reducing hours or laying off any
employees as there is State funding to offset business work reduction and avert layoffs.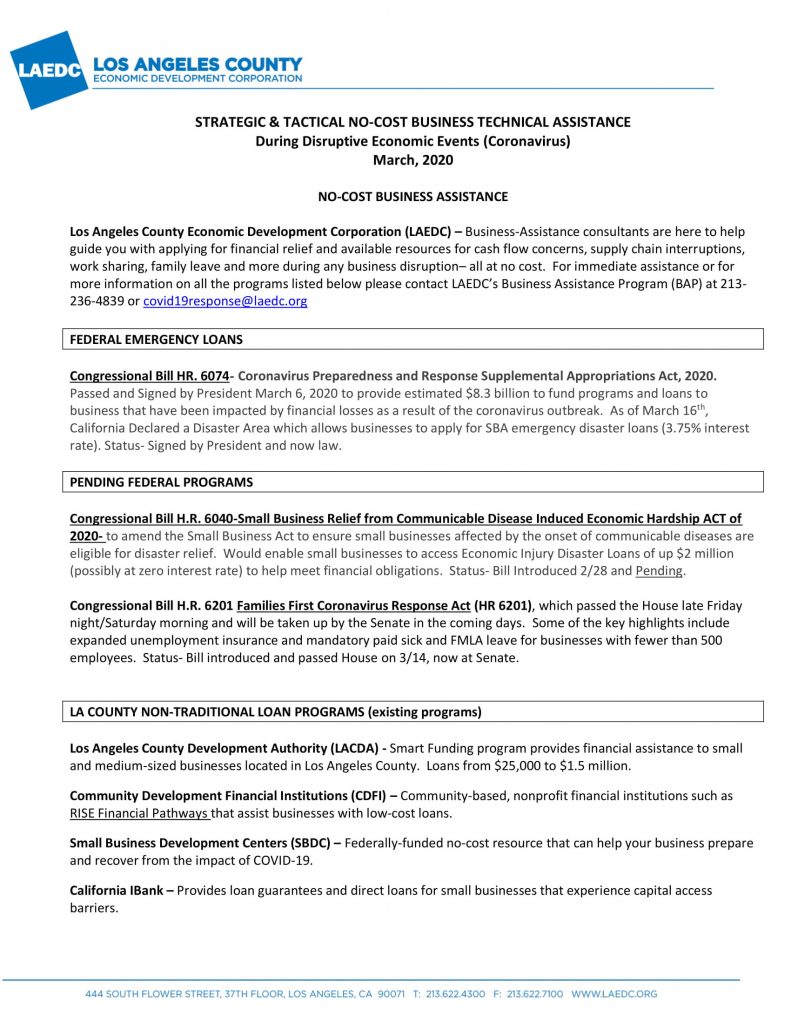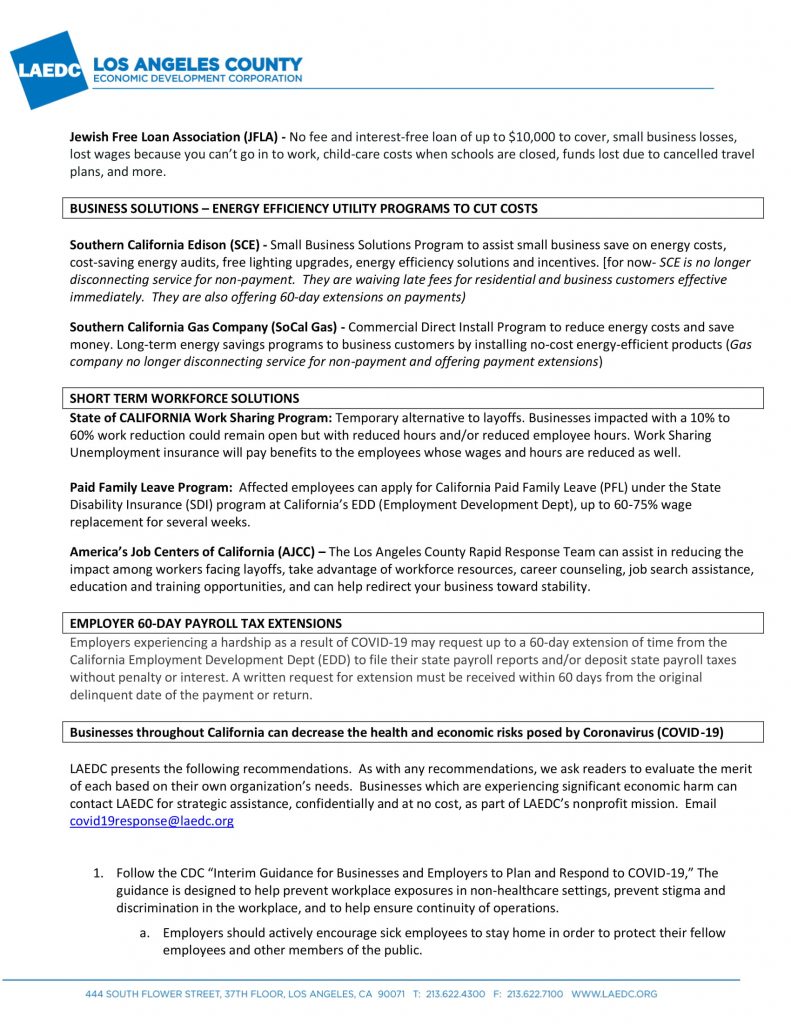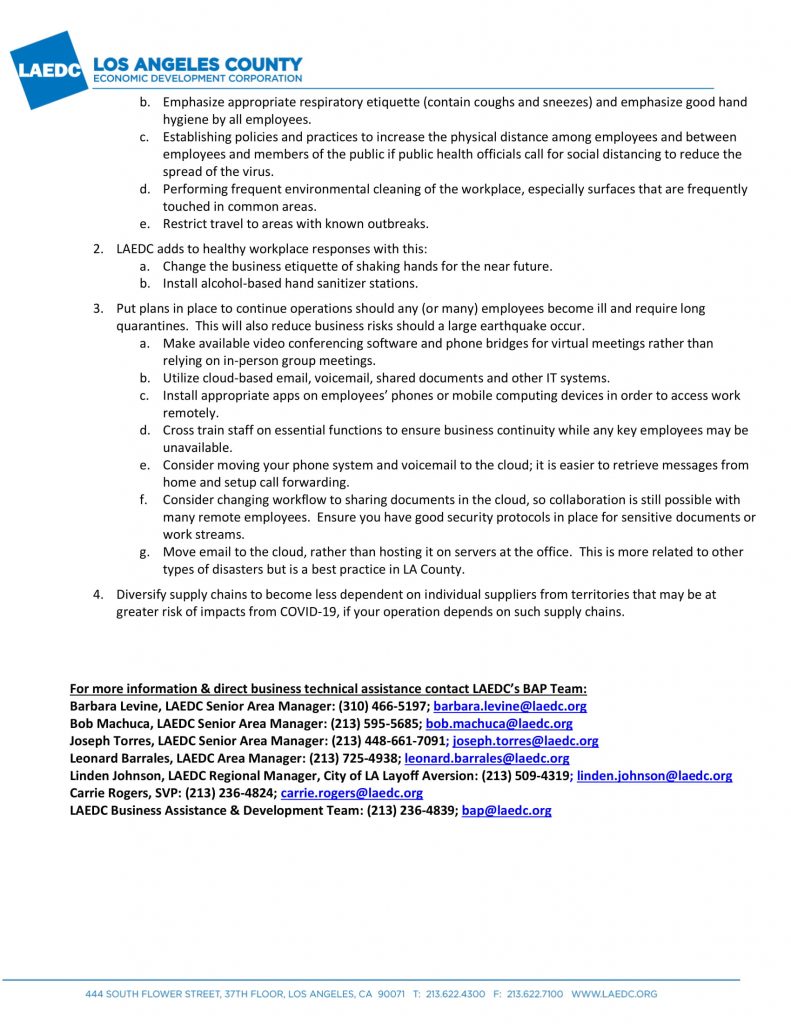 FOR IMMEDIATE RELEASE
March 17, 2020
Contact: Los Angeles County Joint Information Center pio@ceooem.lacounty.gov
DISASTER ASSISTANCE LOANS NOW AVAILABLE TO LOS ANGELES COUNTY SMALL BUSINESSES ECONOMICALLY IMPACTED BY THE CORONAVIRUS (COVID-19)
LOS ANGELES (Tue., Mar. 17, 2020) – The U.S. Small Business Administration (SBA) is offering low-interest federal disaster loans for working capital to California small businesses suffering substantial economic injury as a result of the novel coronavirus (COVID-19).
"Offering support and disaster relief is a critical government function," stated Kevin McGowan, Director of the Los Angeles County Office of Emergency Management. "The devastating economic impact of COVID-19 is palpable. There is a great need for economic support during the coronavirus disaster, and SBA federal disaster loans are an excellent resource for small business owners."
Applicants may apply online, receive additional disaster assistance information and download applications at disasterloan.sba.gov/ela. Applicants may also call SBA's Customer Service Center at (800) 659-2955 or email disastercustomerservice@sba.gov for more information on SBA disaster assistance. Individuals who are deaf or hard-of-hearing may call (800) 877-8339. Completed applications should be mailed to: U.S. Small Business Administration, Processing and Disbursement Center, 14925 Kingsport Road, Fort Worth, TX 76155. The deadline to apply for an Economic Injury Disaster Loan is December 16, 2020.
For information about Coronavirus, visit: publichealth.lacounty.gov/media/Coronavirus/.
For information about available SBA resources and services, visit: SBA.gov/coronavirus.
Media Accessibility for People with Disabilities, and others with Access and Functional Needs.
Federal Communication Commission rules under Section 255 of the Communications Act require telecommunications service providers to make their products and services accessible to people with disabilities, if such access is readily achievable. Where access is not readily achievable, service providers must make their devices and services compatible with peripheral devices and specialized customer premises equipment that are commonly used by people with disabilities, if such compatibility is readily available.