Fiesta Booth Vendor Website
Thank you for participating in Fiesta Hermosa for Labor Day Weekend Saturday, September 3 - Monday, September 5, 2022.  We are excited to work with you on the ever-expanding event with a bunch of new changes this year .  If you would like to see more info on all of the happenings visit  https://fiestahermosa.net/
Please know we have the health and safety of you, your staff and the event guests top of mind and will be making sure to follow health protocols mandated by the State of California, Los Angeles County Dept. of Public Health and the City of Hermosa Beach.
On this webpage you will find important information you need to know from now until the day of the event. In order for the event to run smoothly, we ask that you review this carefully and address any questions or problems ahead of time with Mike Bell at bellevent@gmail.com or Kim Ruggles at Kim@KimRugglesEvents.com.
Additionally, this website will be updated with more information.  Expect to receive emails with updates too.
Here is a Google Map of where the portable bathrooms will be located
Required documents are due by Thursday, September 1, 2022
For those of you who could not attend the Vendor Q&A Zoom sessions, below is the recording from Thursday, August 25
https://www.dropbox.com/s/9kedllircutz8b2/GMT20220826-010052_Recording_1920x1150.mp4?dl=0
PLEASE NOTE:  Due to the extended dining decks on Pier Plaza and the dining decks on Hermosa Ave., some vendors will be displaced from past booth spaces. We will work hard to place them in good locations.
Day of Event Contact Info
Mike Bell

Bell Event Services

bellevent@gmail.com

Jessica Accamando, President

Hermosa Beach Chamber

president@hbchamber.net

Kim Ruggles

Kim Ruggles Events

kim@kimrugglesevents.com
Saturday, September 3 - Monday, September 5
Makers Mercado (Art, Craft and Retail Booth Vendors):  11:00am – 6:00pm
The Garden:  11:00am – 6:00pm
Food Fair (food court):  11:00am – 6:00pm
Carnival:  11:00am - 7:00pm
Beach Stage:  4:00 - 9:00pm
Footprint of Fiesta Hermosa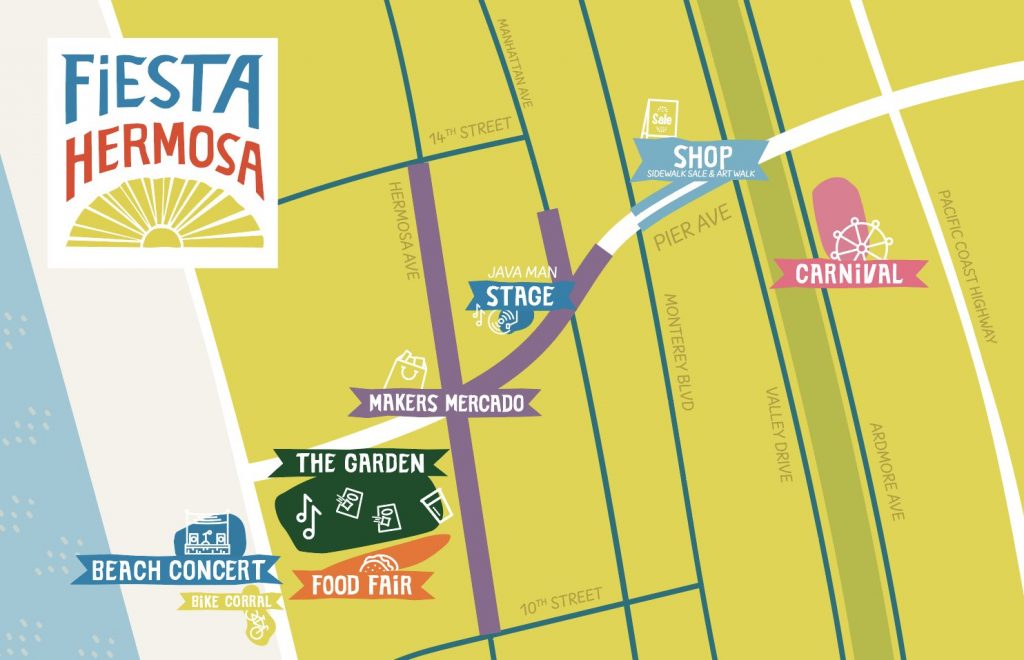 Click on the below button for the pdf version of the site layout.  I HIGHLY suggest you download the pdf, then zoom in.  If you try to do it from the internet it will likely be blurry.
Page 1 - West Side of Fiesta Hermosa
Page 2 - Carnival Area
Page 3 - Setup & Tear Down Grid of West Side *
* Find your booth location on page 1, then go to page 3 to see what color-coded section you belong to so you know where to enter the event property.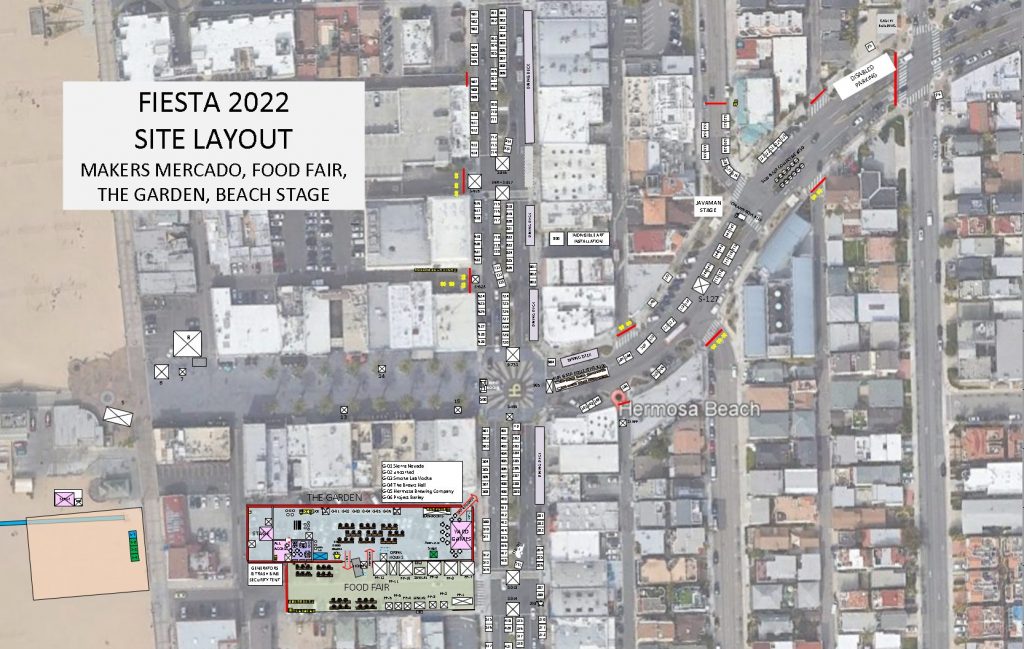 In a sea of booths, it's important to find a way to stand out.  Your booth display is the first impression to shoppers AND they decide within seconds if they want to shop.  An alluring booth is the goal, so how are you going to make a display that stops them in their tracks?  Follow the below tips:
Branding/Booth Aesthetics.  Even a simple table setup, with great product branding and signage can work.
Give it that Personal Touch. Create a booth that's like a brick and mortar shop. Use furniture, displays, accessories, props, backdrops, decorations and more. 
Tag it. Everything in your booth should be tagged, labeled and identified for the customer. Some people might be too shy to ask questions.
No Clutter.  Racks of overflowing product is not a draw to shoppers. They may keep on walking rather than traversing through all of the racks of product.
Creative Use of Space. Put tables on risers, utilize walls with plywood, shelves, and other items to creatively use your entire space.  Keep in mind the eyes like to wander so putting product at varying levels is a good thing. 
Practice the Setup.  Setup the booth and take photos so you are not still setting up the booth when attendees arrive.  Plus practice makes perfect, you'll be able to work out the kinks with a pre-event setup. 
Consider the Weather. We are near the beach, therefore there could be some wind.  Make sure to bring weights, so nothing gets blown away.  This event is rain or shine, but it's SoCal when do we ever get rain? Ha ha
Network. Bring business cards and talk to your neighbors.  You never know if the company 2 doors down could collaborate with you to make an amazing product or help grow your company.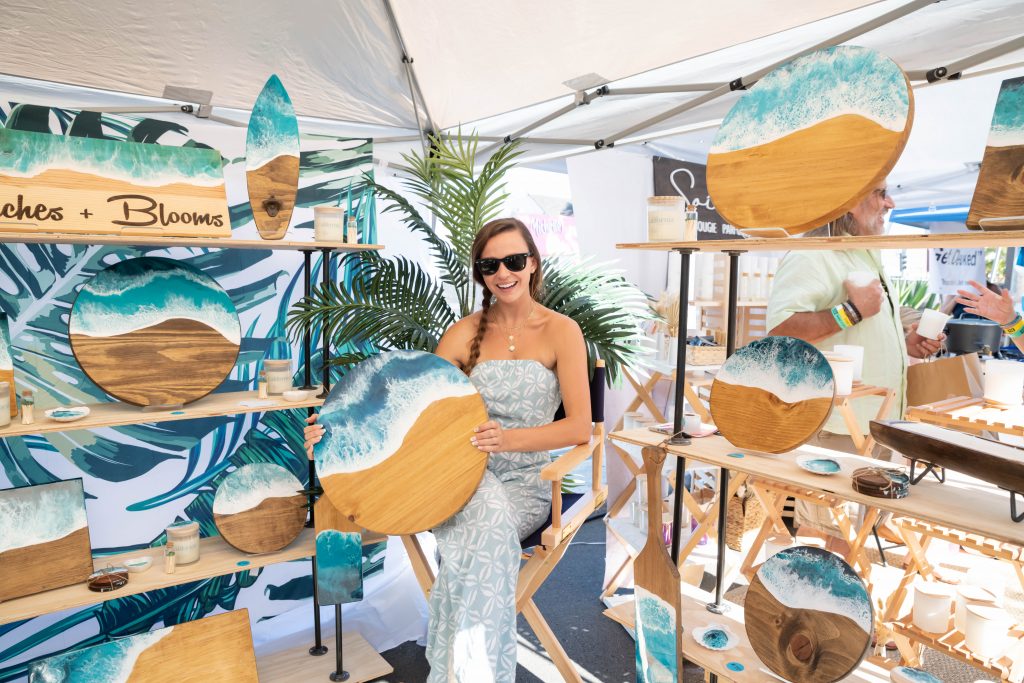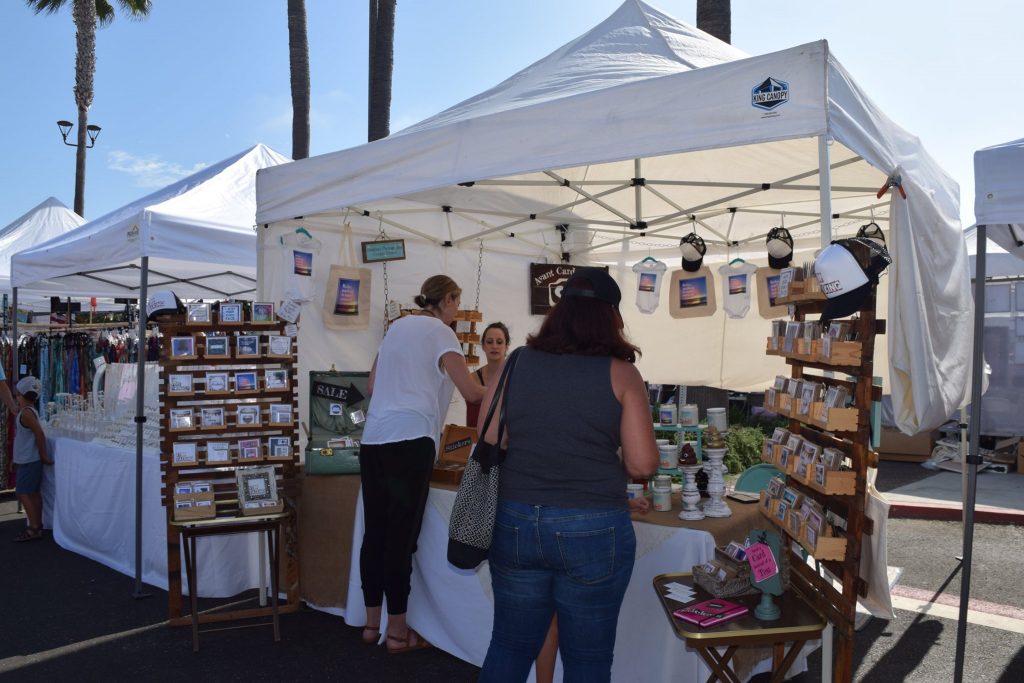 Art, Craft and Retail Vendor Booths
Load-In
Volunteer Help: A limited number of volunteers will be available to help make the load-in process as smooth and efficient as possible. Please bring your own staff to help carry equipment and set up your booth.

Where to unload: Event staff/volunteers will direct you to your unload area (which is dependent on where you are placed in the event venue).  Please follow the directions of volunteers, we do not want to stack the cars making it impossible for other vendors to get in & out.

Bring Your Dollies.   They are VERY helpful to move heavy items for a distance.
Venue Restrictions
Tying decorations on to plants, trees or structure is not permitted. All decorations must be on the table, attached to your tent or free standing.

NO balloons, NO single use plastic bags
What We Provide
10x10 space for your booth and goods
What You Need to Bring
Pop-up Tents 

Tables and chairs

Decor and supplies for the experience

AND your fantastic products
Food and Beverage Vendors
Load-In
Volunteer Help: A limited number of volunteers will be available to help make the load-in process as smooth and efficient as possible. Please bring your own staff to help carry equipment and set up your booth.

Where to unload: Event staff/volunteers will direct you to your unload area (which is dependent on where you are placed in the event venue).  Please follow the directions of volunteers, we do not want to stack the cars making it impossible for other vendors to get in & out.

Bring Your Dollies.   They are VERY helpful to move heavy items for a distance.
Food Venue Rules/Restrictions
All displays must be self contained, nothing can be tied to plants, trees or structure. Banners and structures holding banners may not exceed 15 feet above ground level. All banners must be clean and designed professionally. Banners that appear to be old, worn, torn, dirty, discolored or have holes will not be permitted.
Vendors found to be in violation of the Hermosa Beach environmental rules will be closed down indefinitely until bio-degradable products are sourced by the FCV and available for use in the Food Court. HBCCVB will not refund any fees or loss of revenue.
Vendors are responsible for their own clean tents and canopies for the front of each food court vendor booth adjacent to the public walking space.  In addition, all vendors must have Los Angeles County HD-certified screens that must be in place through the entire weekend. The tents should measure appr. 10 feet wide and 10 feet deep (standard). The maximum depth permitted is 20 feet. The FCV will be responsible for installation of Los Angeles County Health Department certified screens with the appropriate sized windows for the front of the food court vendor booth at its own expense for the duration of the event.
The canopy and screening provided by the FCV must be clean, free of dirt, grime, and grease. Vendors found to be in violation of this policy will not be allowed to open and sell its items until clean replacements are sourced by the FCV. HBCCVB will not refund any fees or loss of revenue.
What We Provide
10x10 (or 10x20) space for your booth and wares

Electricity (when requested & purchased)
What You Need to Bring
Tents, HD certified screens, t

ables and chairs

Signage, decor

Bio-degradable paper products include: Cutlery, plates, napkins, paper boats, straws, plastic cups, paper liners and to-go bags
If you requested electricity, bring extension cords

AND your fantastic food and/or beverages
There are three areas of downtown Hermosa Beach that will have activities:
* To get directions, click on the link above and add your starting point
Once booth assignments are complete you will receive an email letting you know your number AND the time and location where you will enter the event site.
Once you arrive at the event site, you will be greeted by a staff member or volunteer to direct you where to unload your vehicle.  
When unloading or loading your merchandise, please put your articles in your booth space, not in the street or on the sidewalk.  Once you have unloaded the vehicle, you must move the vehicle to the offsite vendor parking lot and take the continuous shuttle back to the event space.  Please adhere to these rules, in order to avoid long lines of backed-up trucks, vans and cars waiting to unload at their booths.  All vehicles must be removed from the venue by 10:00 am and driven to the designated offsite vendor parking.  If you arrive after 10:00am you will need to hand truck your goods into the event space from the perimeter of Fiesta Hermosa.
ABSOLUTELY no vendor parking in public city lots or parking structures, alleys, against barricades, or business parking lots. This regulation will be monitored all day each day and strictly enforced - vehicles will be ticketed and towed.
Vendor Parking Lot:  We have reserved a parking lot for all event vendors located at Mira Costa High School (1401 Artesia Blvd., Manhattan Beach, CA 90266) in the Student Parking Lot.  Enter the parking lot from South Peck Drive.  This lot will be continuously staffed with security and serviced by shuttle buses.
Shuttle System:  A continuous shuttle will pick up vendors from the lot and bring back to the event site at Hermosa Avenue & 10th Street (the south side of the event venue).  You do not need a voucher to get on the shuttle.  The shuttle will run from 7:00am - 10:00pm on Saturday, Sunday and Monday.
OVERNIGHT PARKING IS NOT PERMITTED
Please note there are four different entrances for vendor booths coming from different directions at different times.
Hermosa North - enter & exit from 14th Street and Hermosa Ave.
Hermosa South - enter & exit from 10th Street and Hermosa Ave.
Pier Ave. - enter & exit from Pier Ave. heading west from Pacific Coast Hwy.
Food Fair & The Garden - enter & exit from Beach Drive (an alleyway) and turn on to 11th Street.  This load-in is on Friday (the ONLY load-in on Friday, no other vendor can set-up at this time as the other streets will NOT be closed to traffic).
Carnival - enter & exit from 11th Place off of Pacific Coast Hwy.  Page 2 of pdf
IMPORTANT NOTE:  We want the uhauls and trailers to enter first at 6am so they can unload and get out to make way for the smaller vehicles arriving as early as 7am.  ALL vehicles must be off the property by 10:15am, anyone coming after will have to hand truck their items from outside the event space.
Also, the pdf image is blurry, but the text is readable. Sorry I'm not a graphic designer.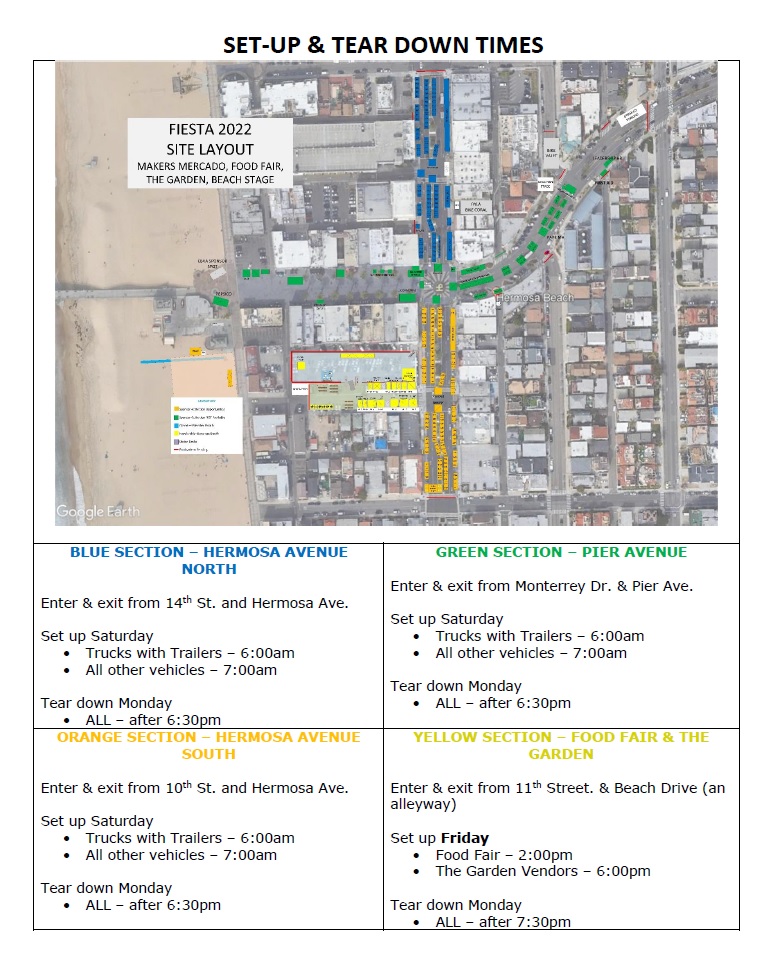 As in the past, most vendors MUST stay within the 10ft. x 10ft. booth size restrictions (unless you purchased a 20x10).  Fire Lanes will be clearly marked with red tape or white spray chalk on the street.  There will be some areas where vendors MUST place the back canopy legs on to the sidewalk or median.    All racks, awnings, umbrellas, etc. must stay within that allotted space and not in the fire lane, NO EXCEPTIONS. 

Vendors that do not comply with Fire Lane restrictions will be removed from the event and the application fee will not be refunded

.  The event will not open until all vendors have complied. 

Vendors must occupy the booth all three days from 11:00am - 6:00pm.  No late setup or early tear down.
Booths must be setup and cars must be off the venue by 10:00 AM each day.
Space is forfeited without a refund if you are not setup by 10:00 AM.
The Chamber reserves the right to remove any vendor at any time before or during the event in cases where vendor is guilty of improper conduct; merchandise is improper for family viewing; vendor hinders or encumbers another vendor's booth ability to display; vendor attempts to sell work other than what was juried and accepted into the show based on photographs submitted with application.
Vendors and/or merchants are strictly prohibited from allowing a secondary vendor to sell goods from their assigned space (unless approved by event management prior to event). In the event the vendor does not comply, both vendor and secondary vendor will be required to vacate the entire space without refund.
All booth activities shall not interfere with the orderly and safe movement of the crowd and shall not overflow into neighboring display spaces. Engaging in these activities at any location other than the pre-assigned space is grounds for removal.
Helpful Tips for the Event
Here is a Google Map of where the portable bathrooms will be located

You will be located on the street or a parking lot, which means these areas tend to get hot on sunny days. We highly recommend dressing with the heat in mind. Don't forget sunscreen.

Hermosa Beach has decent cellular & limited Wi-Fi access. Should you try to access the internet with a tablet or Smartphone you may have difficulty. Please come with a back-up plan when communicating via phone, to capture contact information and complete credit card transactions.

You will have the opportunity to interact with 40,000+ event attendees each day. This will be your opportunity to showcase your company and build those email lists and social media followers.

Walk around the event grounds and introduce yourself to other vendors, you never know what type of business relationships can develop.
We have 24 hour security for the event, should you want to keep your set-up intact each night you can.
WE HIGHLY SUGGEST:  covering up your product with either side walls all the way around your booth OR covering your tables with tarps (secure the tarp to table legs) OR pulling out the valuable items and leaving the structure, tables, shelving, etc. in tact.
Breakdown at the End of the Event
When the event ends, and attendees are clear of the area we will do our best to allow cars to enter for loading. 

If you are using sand bags to weigh down your tent and items DO NOT dump the sand in garbage cans.  Our event staff will show you the designated drop for sand bags. 

Bring Your Dollies.   At the end of the day,  dollies are VERY helpful to move heavy items for a distance.  Cars will not be allowed to drive into the event space until all guests leave.

Take your time to make sure that you do not forget anything, break anything, or injure yourself during tear down. We are not responsible for items left behind.

All vendors are responsible for ensuring that all trash is removed from table space, and boxes are broken down.

Please put your trash in containers nearest your booth.  DO NOT LEAVE TRASH for event staff and volunteers to handle.
Except for booths on Pier Plaza, vendor booths/displays do not have to be taken down and removed at the end of the day Saturday and Sunday. Vendors must secure displays of the booths and remove valuable items when the show closes on Saturday and Sunday evenings. Security is provided after 8:00 PM to monitor the venue. Vendor property is left at vendor's risk. The Chamber assumes no liability for lost, stolen or damaged property.  It is highly recommended to remove your valuables at night.
We will use the same route as load-in. Event staff and volunteers will be available to help direct and load cars quickly & safely.

Before departing, do one last spot check to make certain nothing was forgotten. Hermosa Beach Chamber is not responsible for lost/left items.
Fiesta Hermosa and participating vendors are promoted in multiple formats to enhance the event and elevate your visibility.  
Please visit Fiesta Hermosa Assets for some of our assets to post on social.
Social Media Promotions.  We are promoting the event & your company through Facebook and Instagram. We would greatly appreciate reposts & retweets to help spread the word. Please tag our three social accounts on all posts
@hermosachamber |  @hermosaoneig |  @trulyhermosa
Again, thank you for your participation in the Hermosa Beach Chamber's Annual Fiesta Hermosa. We look forward to working with you to create an exceptional event.