Hermosa for the Holidays - Volunteer Webpage
Thank you for supporting the 2021 Hermosa for the Holidays for the weekend of November 19 - 21.  We are excited to work with you on the first year of expanding our holiday festivities .  If you would like to see more info on all of the happenings visit www.HermosaHolidays.com
Please know we have the health and safety of you and the event guests top of mind and will be making sure to follow health protocols mandated by the State of California, Los Angeles County Dept. of Public Health and the City of Hermosa Beach.
On this webpage you will find important information you need to know from now until the day of the event. In order for the event to run smoothly, we ask that you review this carefully and address any questions or problems ahead of time with Kim Ruggles at Kim@KimRugglesEvents.com or (310) 529-4258.
Important Day of Event Contact Information
Kim Ruggles
Kim Ruggles Events
(310) 529-4258
kim@kimrugglesevents.com
Jessica Accamando, CEO
Hermosa Beach Chamber
(310) 753-3960 (TEXT ONLY)
president@hbchamber.net
Millie Martinez Stordeur, Event Mgr
Hermosa Beach Chamber
(818) 427-3527
events@hbchamber.net
Saturday, November 20
Ice Rink 10am – 8pm

Open House 11am–5pm

Local Artisan Pop-up 11am–5pm

Letters to Santa 11am–4pm

Workshop Tent 11am–4pm
Sunday, November 21
Ice Rink 10am–8pm

Open House 11am–5pm

Local Artisan Pop-up 11am–5pm

Pictures with Santa 11am–8pm

Giving Village 3–8pm

Tree Lighting Ceremony + Community Concert 5–8pm
Areas of Hermosa for the Holidays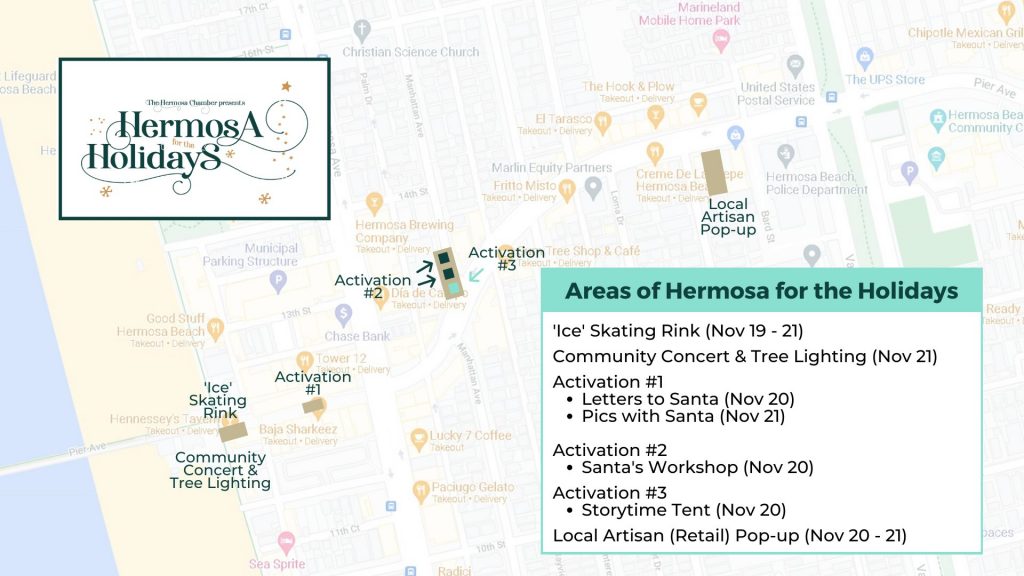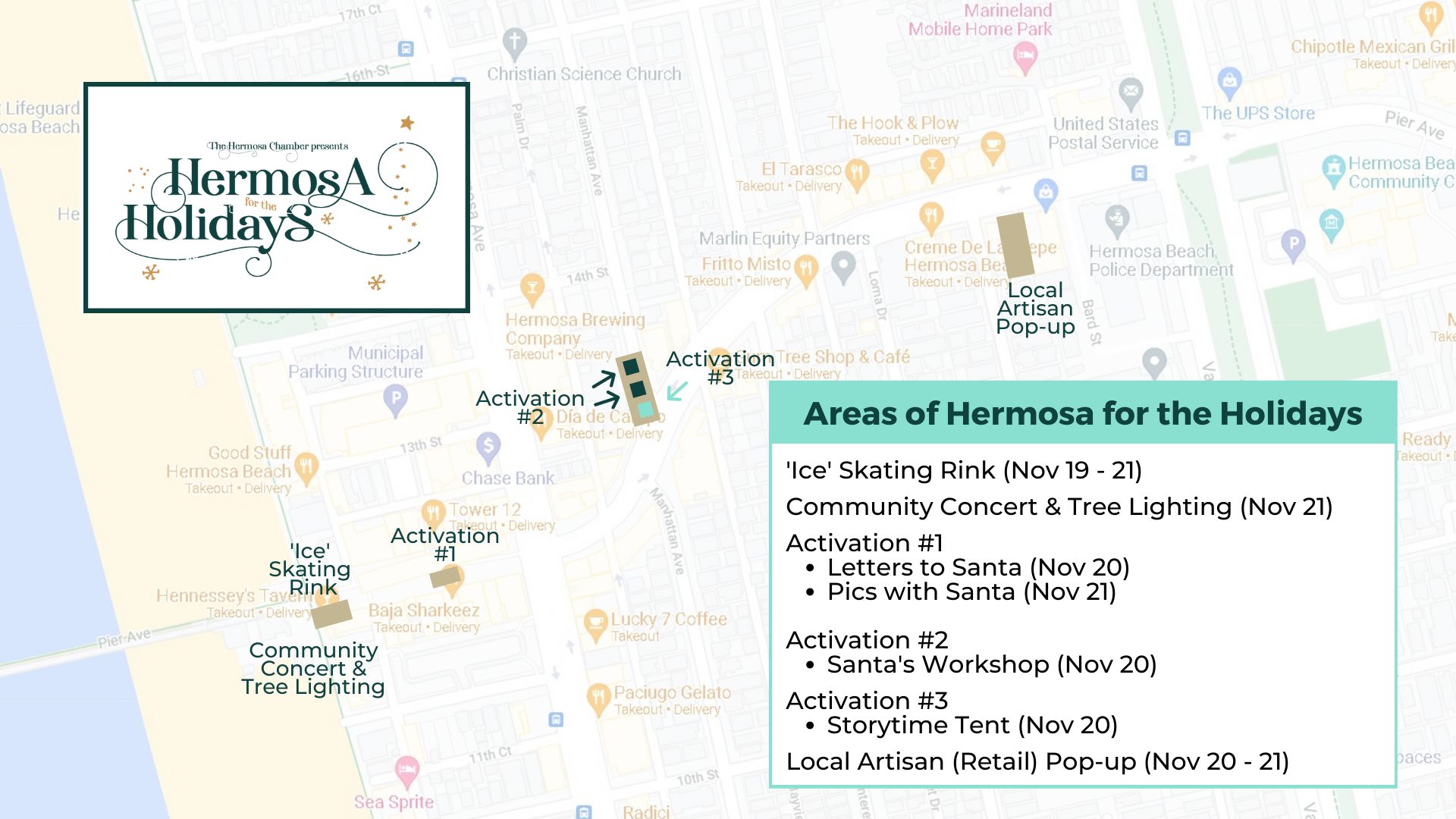 What You Need to do Before the Event
Volunteer Training
If you are volunteering for the Ice Rink, Winter Lodge, or Workshop, we highly encourage you to attend the Volunteer Training to learn how to scan tickets and ask questions. If you are unable to attend the training or have any questions, please reach out to Millie at
events@hbchamber.net
 so she can send you the recording. Please see below for the Zoom information.
Event App We Are Using
If you are helping at the ice rink, workshops or Winter Lodge you will need to download the below app onto your smartphone.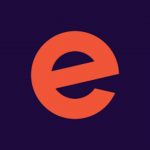 First, go to the App Store or Play Store, search for and download the Eventbrite Organizer app to check in attendees at the event site. 
Additionally, you will receive an email inviting you to Get Started so you can set-up an account (if you don't already have one).  Once your account is set-up it will give you access to the event guest list so you can "Check in" attendees manually or by scanning their tickets via the QR code.
Please watch this video to help guide you through the steps.  https://www.youtube.com/watch?v=E_Xb6iY6yJM (the first 2 minutes gives you the info you need)
Below are the instructions:
Go to your event.  First, log into your Eventbrite account. Then, select your event.  To change events, tap the house (iOS) or the menu (Android) at the top left corner.

Tap "Check in".  For Android users, first tap the menu. Then select "Check in"

Tap the scan icon to scan tickets.  The app uses your device's camera to scan tickets. Aim it at the QR code on the ticket to check in the attendee.
Once scanned, a confirmation message shows on the app.
Manually check in attendees.
To check in attendees without scanning, search or scroll to find their ticket.

Then either:

Swipe right on their ticket to check it in. Swipe left to check it out.

Tap their ticket and select "Check in" to check it in. Tap "Checked in" to check it out.

Getting to the Event & Once You're There
There are four areas of activities in downtown Hermosa Beach, below have hyperlinks to each location:
* To get directions, click on the link above and add your starting point
Parking
If you're local, walk, bike or rideshare to downtown Hermosa.  Unfortunately we are unable to provide complimentary parking, here is the Hermosa Beach Parking Lot website to the public parking lots in Hermosa to help you find a spot.
Attire
If you are working during the event please keep it nice but with the weather in mind, dress comfortably and festive attire is encouraged (i.e. ugly Xmas shirt/sweater, santa hat, etc.).  All volunteers will receive a lanyard to wear during the event.  Also, the event is on concrete so we highly suggest wearing comfortable shoes.
Volunteer Check-In
Arrive 10-15 minutes before your shift to give yourself time to get to the event space.  Depending on your volunteer location, check-in with one of the lead staff below.
Lead Staff for the Weekend
Saturday, Nov 20
Ice Rink 

(Kim Ruggles)

Workshops & Storytime  (Millie Martinez Stordeur)
Sunday, Nov 21
Ice Rink 

(Kim Ruggles)

Giving Village 

(Jessica Accamando)

Social Media Promotions.  We are promoting the event through Facebook and Instagram. We would greatly appreciate reposts & retweets to help spread the word. Please use #HermosaHolidays and tag our three social accounts on posts
@hermosachamber |  @hermosaoneig |  @trulyhermosa
Again, thank you for your support in the Hermosa Beach Chamber's Annual Hermosa for the Holidays. We look forward to working with you to create an exceptional event.